This woman is pooped!
Between marketing stuff (writing guest blog posts, interviews, etc)
and softball (games last night, games AND practice tonight, practice tomorrow)
and homework (3 kids in school = momma getting confused on trying to help keep track of it all!)
and Annabelle doctor/therapy appointments
and cleaning house/laundry (HA HA HA, I'm trying… it may not look like it, but I am!)
and prepping for Friday's Facebook Open House…
and starting a "loose Krista weight" diet because I looked in the mirror and gasped…
I'm about ready to pull every single strand of my hair out!
Most of it is good stresses. I LOVE doing every single one of the things above, well, with the exception of house work and dieting. I love the RESULTS of those though.
But this momma is a wee bit on the overwhelmed stressed side. Thus the reason I'm posting Wednesday's post at 9:30 pm. vs scheduling it to post in the morning.
A few book things: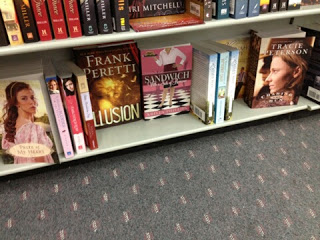 My book at a bookstore in Alabama! Thanks Ashley for sending this pic to me!
BOOKSTORES: My book is slowly trickling into bookstores. unfortunately it's taking a few weeks, and it is an uphill battle for debut authors that have to "prove" themselves sometimes. As soon as I get some time without kids in tow, I'll be visiting the bookstores around here, introducing myself, and hopefully urging them to stock the book.


HOW YOU CAN HELP: if you're in a book store… take a look at the fiction section. Don't see my book between Tracie Peterson and Michael Phillips? (Two AMAZING authors by the way…. wow, what great company I'll have on the shelf!) You can always nonchalantly ask about the book… if they plan to stock it. Sometimes all it takes is the question for them to be like, "Oh, someone is looking for this book! We should stock it!"
In the mean time, I'm working diligently with my publisher on trying to get them into as many stores as we can, so fingers crossed and PRAYER on this is appreciated! Mostly the prayer part!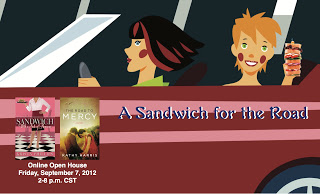 PARTY: Have you preregistered for Friday's open house for your chance to win a Kindle???? If not… WHY? Go ye forth and register now! 🙂 And if you wanna share the link of Facebook and/or twitter or with your sphere of influence, that'd be cool too!


Here's a link to the party…
and a link to the Facebook event page…
PRAYER – And in general, your prayer this next few weeks are appreciated. I want with all my heart to be a good momma and a good author and a good wife, and I feel like I'm doing a half-baked job at all three being spread so thin. So prayer for STRENGTH is super appreciated!