*sigh* Earlier this week I posted "Is this the week??"
Answer is no.
Dog-gone-it!!
Annabelle got off oxygen earlier in the week and went SEVENTEEN hours on room air! From 1:22 p.m. to 6:45 a.m. the next morning (not that I'm timing it or anything like that…)
She woke up that morning a little junky and just couldn't keep her SAT's up, back on oxygen she went. We've tried a few times since, but she hasn't been off for more than an hour since, and last night/this morning we had to go up on her O's quite a bit.
But tonight, we turned her oxygen off again to try it. That was around 7:30… it is 10:30 now and she is still off, so that's 3 hours, so WOOHOO for that! However, her numbers aren't stellar… they are on the very low end of what is acceptable. Still, I'm thankful she is on room air again.
So maybe home next week? I'm really tried of saying that! I've been saying that for a long time!
Really, it will probably be a last minute thing. She has to get off oxygen and STAY off oxygen for at least a full day or two before we would start talking about going home. (Because of prescriptions and home health supplies, we wouldn't go home on the weekend, so that makes the EARLIEST we would go home to be next week.)
A FUN thing though! Yesterday (Tuesday) we went to the play room for the first time! It was the first time Annabelle was out of the normal hospital "pod." The playroom was closed, but they opened it just for us (she can't be around other kids at the hospital for obvious reasons.)
She had SUCH fun! See pics…
WOW… this place is COOL!
I like the toys here… this shoe is pretty neat!
I AM going to figure this out!!!
I HATE THIS RIDE! GET ME OFF!!!
The chair is pretty cool though…
One of my 2 favorite nurses came to visit! AND she brought me my new favorite toy… a ladybug maraca!
I went home last night and made myself actually sleep in my bed. OH MY GOODNESS it was nice. I watched Lacy's softball game (they won!) then went home and tucked my kids into bed (complete with story time with a rousing edition of Green Eggs and Ham… that Sam I Am!)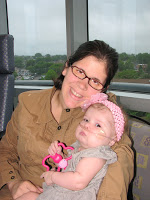 As I laid down, I picked up my Bible and was tired, to be honest. The thought of reading a chapter or two and being spiritual wasn't really on my high list even though I knew it should be. But I pulled out Scott's Bible from the night stand and was going to "force" myself to do it anyway (because we all know that when we don't feel like reading God's word, that is probably when we really need to the most!)
I did the whole ultra-lazy-Christian thing when it comes to Bible reading. I did the inspirational eeny-meeny-miney-moe, closed my eyes, opened the Bible, opened my eyes, and read the first chapter I came to.
Actually, for the sake of honesty and no lightening bolts, I only read the first two verses, but they were really good and exactly what I needed to be reminded of, so I thought I'd share.
Isaiah 60:1-2 (middle of the Bible… go figure!)
"Arise, Jerusalem! (krista insert: I was reading the KJV, this is the NLT… the KJV doesn't have Jerusalem in it so it felt a little more directed to me last night!) Let your light shine for all to see. For the glory of the Lord rises to shine on you. Darkness as black as night covers all the nations of the earth, but the glory of the Lord rises and appears over you."
Now, I understand this is directed to the Nation of Jerusalem back a looonnnngggg time ago, but it reminded me of my purpose. Jesus is my light. And I want HIM to shine for all to see through me. I've said since the beginning that I wanted God to be glorified completely through all of this. It was my hearts desire. And in some way, I felt God picked this verse for me as confirmation that his glory IS rising to shine through this. Through a bunch of darkness and saddness and pain and long-suffering, God's glory will rise and appear and drown out the darkness.
I'm believing in that tonight, even as they put Annabelle back on oxygen again (she lasted 3 1/2 hours…) because she just couldn't keep her SAT's up. *big sigh*
My task for you today: Share a verse that God has used to speak to you lately. If you don't have one, grab your Bible, read and listen, then come back and share!
**UPDATE**
So, it is about 12:30 in the morning, and I was getting ready to sleep after posting this, and sat down to my open Bible. I was gonna flip back to Romans where I have been reading lately, but Chapter 60 of Isaiah was still laying open from when I had typed it on the blog earlier, and I had an urge to read just a little more tonight.
Vs 4-5 in the NLT are: "Look and see, for everyone is coming home! Your sons are coming from distant lands (krista note: No, I am NOT pregnant…this WOULD be miraculous and a wee bit scary! I mean… I'm not doing a Sarah "no" thing or anything but…) your little daughters will be carried home. Your eyes will shine, and your heart will THRILL with joy, for merchants from around the world will come to you. They will bring you the wealth of many lands."
Again, I realize this is a prophesy for the Israelites…but I think it is no coincedence that God brought this chapter to me this week.
Not sure about the whole "wealth of many lands" thing (not that I'd turn it away of course, HA!) but the everyone is coming home…oh my goodness. That is my heart's deepest desire.
I am filled with hope tonight. Blessed, blessed, much needed hope.