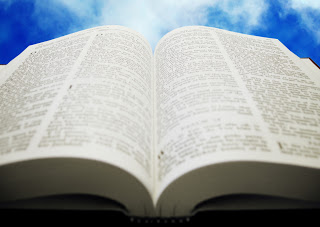 My title looks like a cross between wrestling and an annual Christian CD. Hmm.
My niece and I had an interesting conversation today. She was telling me about a boy she likes at school (she's 11) and we were talking about the pro's and con's of having a boyfriend. I, the wonderful aunt that I am, reminded that above all, it's what Jesus wants us to do that matters.
Then she shocked me. She tells me about how she's been reading in her Bible lately in Job, and how she's trying to memorize verses, then quotes John 3:16. Yes, I know that is the universally known verse, but wow, I was amazed by her. Here I am, struggling everyday to MAKE myself read my Bible and here's this 11 year old soaking it up and eagerly reading it.
So, instead of sharing some wonderful words of wisdom out of the Bible today, I'm going to flip sides and ask YOU to share what wonderful words of wisdom YOU'VE been reading lately that God has used to speak to you. If you've been lax in your Bible reading, well, I think now is a great time to get started!