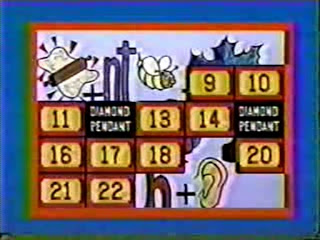 I have a wee little secret I'm not sure I've ever shared with you all.
I LOVE GAME SHOWS! Okay, so maybe I divulged that a little when I admitted last month to standing in line for 8 hours to interview for Deal or No Deal…. but still, I am what I am. Unfortunately, I don't often get to watch them. Some of my FAVORITE ones come on while I work, and I'm just too busy to watch much in the evening. And still others are older and don't come on TV anymore.
Krista's FAVORITE Game Shows EVER!
Wheel of Fortune
Family Feud
Price is Right
Deal or No Deal
Concentration (anyone else remember that?? I LOVED IT!)
Pyramid
Press Your Luck
Hollywood Squares
Who Wants to be a Millionaire
Okay, so some of those are highly old. Am I the only one that still cries out, "WHAMMYYYYYYYYY" just for the fun of it?
I was thinking about my love of game shows lately and realized that I am drawn to them so much because I love winning. HA HA HA! I'm being serious here. I like competition… friendly competition anyway. I cringe with the teeball coach tells my child, "Good job… we're playing for fun!" when I'm sitting there tapping my foot because I know she only gave 50% and played in the dirt more than tried to do her best.
I think that's what it comes down to. It isn't REALLY about winning or losing. What matters is if you gave it your all, tried your best. Yes, it stinks to lose, but it also builds character, sportsmanship, and the drive to do better next time. If we had no competition in this world, how boring would that be?? We'd all be complacent with mediocre and would get lazy.
But, there is an opposite extreme. Take, for example, the mother last year of an opposing teammate at one of Lacy's games who proceeded to stomp out to the field and scream at her daughter for not playing well. Not only did this humiliate the child, but instead of trying to do better, the girl was just going to shut down. And if the tactic DID work, I guarantee you that little girl would grow up to HATE baseball.
Of course, I always come back to writing. Are we "competing" when it comes to our writing?
In a way, yes. There are only so many clients an agent can take on. Only so many books can be published in a year. Only a select few can final in contests. While I'm not suggesting we be cut throat with other writers, I am saying that we should acknowledge we have competition. We have to work to be our BEST if we want to win in the game of publishing. Write have fun, absolutely, but if that means you are putting in only 50%, then don't expect the outcome of those putting in 100%.
Oh, one other thing. "God will bless my efforts…" is so very true. BUT… often time we use "God" as an excuse for mediocrity as well. It's like the parable of the talents. If God's given you much writing talent… much is required of you to be a good steward of said talent and to multiply it. Just sitting on your talent, praying for God to bless it, and twiddling your thumbs while you hope it grows… well, that's not very Biblical.
Be obedient and wise stewards of the talent God has blessed you with.
Discussion: On a scale of 1 – 10… how effectively have YOU been using the talent God gave you lately?
P.S. Anyone else get the concentration puzzle up top? I'm sure all you smart people can figure it out… bonus kudos for those who get it!
**Next week we'll discuss a little about how the "business" and "competition" side of writing works with the Christian's desire for their writing to be a ministry.**