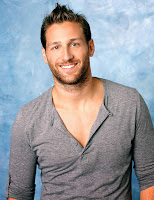 More than one person has looked at me funny when I express my addiction to watching the Bachelor. I watch VERY little TV (because, let's face it, most of it is trash) but this romance junkie can't resist the pull of the "romantic" show.
I thought I'd share some reasons/justifications (depending on how you look at it)….
1.) I write romance. It's RESEARCH!
2.) My pastor's wife watches it. That makes it okay, right?
3.) My pastor watches it too. That makes it even more okay, right?
4.) It's a good reminder of things not-to-do when dating. Not that I'll be dating someone besides my hubby anytime soon or ever. But I can use it when I give others advice, like my children in 30 years when I allow them to date…
5.) It comes on before Castle, one of my all-time favorite shows.
6.) It's more a comedy than a reality TV show. And I
7.) It could be worse…. I could be addicted to the housewives' shows or *gulp* the Kardashians…
8.) It's my woman's version of football. Some people even do brackets and everything! (I will be doing that next time…) We're even going to throw a "finale" party like the Superbowl! I mean, come on… sweaty guys chasing each other with a ball and jumping on each other to get it vs. 25 (or 27…) women all chasing after one guy to get a ring— not much of a difference… kinda… *ahem*
9.) It reaffirms my decision not to drink alcohol. I mean, after that train wreck
lady on Monday—even if I loved the stuff, I would be steering clear
after seeing that!
10.) And final reason… It makes me appreciate my husband! Especially when watching the
Bachelorette. Some of those guys are WEIRD! (aka man-card guy and
foot-fetish dude from a few years back…)
I was going to add "It's a chance to pray for those on the show–God loves them too!" and while that is true and we SHOULD pray for those people (as they are real people at the end of the day) I think that would be called a "Jesus-Juke" according to a certain pastor, so I refrained. Unless you count me posting it just now anyway…. Hmmm…. 🙂
SERIOUS NOTE: I watch the Bachelor for fun. In zero way do I "lust" over the men on there—honestly very few of them are my type of guys anyway, and I'm super happy with the man God blessed me with! (and even if I weren't—still wouldn't make it okay! I view it similar to how I view my fiction–it's a fun storyline, although with a touch of reality:-)
So what about you? Are you a Bachelor watcher? Who are you rooting for this year? Any flimsy tongue-in-cheek excuses for your bachelor-addiction?
Or are you now in deep prayer for my TV viewing habits?? *grin*