A while back, I was walking out my front door on a super nice, sunny, HOT day. I stepped off my front porch and was met with this huge surprise.
Rain.
Well, raindrops at least. It was completely sunny, and I was being showered upon.
My first thought was… sprinkler? But we don't even own a sprinkler, let alone a sprinkler system that could come on by itself.
No, it was coming from the sky. High above me, this beautiful white cloud was raining down happy tears onto my head.
I'm not usually this highly inspirational, take messages from everything that happens kind of person, that takes every things that happens in life as a prophecy from God. (Yes, I believe God still tells us stuff, but that's a fun theological debate for another day)
But at that moment, I felt joy. It was like God was saying that sometimes he brings rain to help us grown by way of storms that rock us to our core. We've definitely been through many of those these last few years.
But other times, kinda like a Daddy surprising his kids for no particular reason at all, he brings us showers of blessings just because He loves us and wants to see us smile.
I've felt that way lately. They haven't been huge blow me off my feet things. But little beads of encouragement that make me want to run to my Jesus and give him a big ol' hug to show Him how much I love Him back.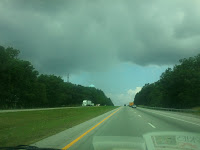 On our way back from our minivacation last month, we ran into a patch of rain. It was raining down HARD, yet, it wasn't storming really. And the bright blue sky was still beaming up ahead.
It was just this picture to me that after the storm, God brings sun to help envigorate those plants to grow after the rain. Because we need a little of both, hm?
So today, I'm enjoying the little showers of blessings God is bestowing on us. Ignoring any clouds that might be on the way because I know God will walk through us with them too. Yeah, just basking in the precious light of Jesus.
Discussion: What showers of blessings has God brought to YOU lately? Or do you feel like you're in that nasty storm that's challenging you to your core? Or maybe you're in a storm but seeing the light ahead, the ending coming?
(Speaking of blessings… I have all of Annabelle's birthday blessing bags ready for the hospital! just waiting on direction from them before delivering them! Will post pictures:-))