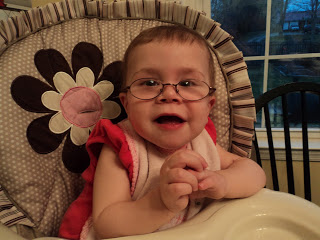 Yeah! I'm home!!!
I'm still catching my breath.
I LOVE GOING HOME!
But going home is sometimes, okay, ALL the time… hard. It's super difficult to explain to most people, and I get funny looks at times, but when you're in the hospital for any length of time more than a day or two, specifically with your child, coming home is… wonderful… but stressful. You can pretty much count on SOMETHING going wrong.
The thing is, to "cope" with being in the hospital, you have to change your mindset a little bit. You develop new routines and a new schedule.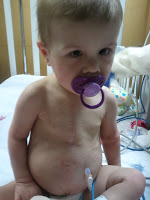 Getting ready to get dressed for home!
Then when you come home, you have to figure out how to change back to a "home" routine and it's all just a little crazy and overwhelming. Especially when you have three other kids who want to see Mommy but who have got out of "habits" and everyone just has to readjust a little.
It's happened at each of our homecomings, but I had hoped this time, I'd be used to the change, used to the chaos, and cope better.
Yeah, I didn't. But… God came through, as always!
OUR GOING HOME STORY
Crazy Monitors: To start off, Annabelle's monitors decided to falsely tell Mommy that her heart rate was >200 beats per minute and her SAT's were in the 50's about an hour before we were supposed to leave.
Usually it's easy to tell these are wrong. I'm an expert "silencer" of monitors that are just being stupid. But this time, the monitor for all purposes looked like it was super accurate. Mommy freaked out a bit (okay, fine, a lot.)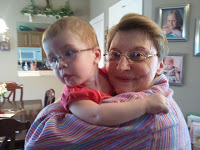 Love my Grandma! But I see my toys…
A check of the leads and change of the pulse-ox showed that there was nothing to worry about. but for these to happen while Annabelle was asleep… and right before we were to leave… yeah, the Devil was wanting to start our day off not-so-great!


Wonderful Heart-Momma Friends: A HUGE thanks to Melissa (Anna Reese's Mommy) for helping me take stuff to my car and sitting with it so I could go get Annabelle!! (And sorry Amanda Bond… this is probably where we both were when you tried to visit!!!)
Anna Reese, by the way, is scheduled to go HOME tomorrow too!!!!! Yeah for the Anna's!!! (Although we've taken to calling Anna Reese: Anna and Annabelle: Belle in our own conversations, ha!)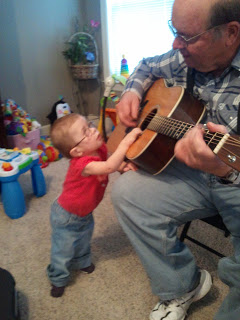 Helpin' Papa Play… (blurry, but cute!)
We made it! We got home just a few minutes before the girls got off the bus, which Mommy was SO excited about! The girls LOVED coming home to their sister and their Mommy HOME!
Annabelle took one look at the living room and was in HEAVEN. She made a bee-line for her toys and literally spent hours exploring them all and playing like crazy! It was FANTASTIC to see.
Meds, where-for-art-thou? While she played, Momma decided to get her meds ready for the night and next day.
But I couldn't find our new med that I'd picked up from the pharmacy. I looked all over my house and it was no where, yet I KNEW I had it. I was standing in the kitchen almost in tears and finally remembered to pray. I opened my eyes and thought to myself, "Knowing God, I'll like find it in two seconds."
Um, yes, I picked up a towel on the kitchen counter less than 30 seconds later, and guess what was underneath?
Yeah, the meds.
Totally bad, I know, but I had this picture in my head of God sticking out his tongue and winking, saying, "See? Shoulda asked me sooner, goof!"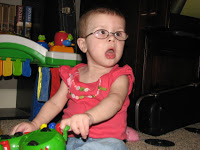 I HAVE COOL TOYS!!!!! HOME ROCKS!
I DISLIKE FEED PUMPS: Our feed pump decided to not want to work for us upon arrival home. It'd feed a little… then error. So we had to bolus feed. And…. Annabelle puked. Then it decided to work again at night-night time. But this morning, not so much. Have a call into technician for help, because I told them their feed pump might be taken out to the road and driven over by my car a few hundred times if someone doesn't come and fix something very soon.
You think I'm joking. But yes, I really did tell them this. Then, I, uh, might have cried a little.
Emotional a little? Yes… yes I am.
Side note: They still have not come or called me back. I'm warming up my car…
SALE!: In a non-brilliant move of mine, I decided to still go with my sister to a local consignment sale last night. We'd been planning to go since well before Annabelle's hospital stay, and Daddy was home, so I figured, why not still go? A few minutes away from the craziness would be SUPER NICE. It'll only be for an hour, and we'll be home before Annabelle needs anything.
Yeah… after we picked out our stuff, we waited in LINE for an hour. Mommy about had a panic attack because we ended up getting home an hour AFTER Annabelle needed feeds/meds/bed/oxygen.
Oxygen: Got home to a sleeping Annabelle with no oxygen on her. Tore her room apart looking for a nasal canula to put on her. No luck. I'd put our last one on her before heading to the hospital 12 days before. And had not thought to bring one home with me.
Trying not to cry, I hooked her to her SAT monitor, going to gauge whether we needed to go back so we could get a canula.
God heard my cries… Annabelle was satting as perfect as she gets… 96!!! She stayed between 94 and 96 the WHOLE ENTIRE NIGHT… while OFF oxygen! GOD is so VERY good!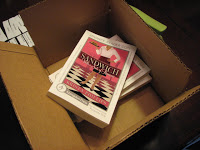 Books: Another God thing (do you hear a echo in this blog post?!?) I came home to a box on my dining room table. To me. From my publisher. My advanced reader copies of my book. Now, these are UNEDITED copies (and because I found a stupid glaring error on page one that I'm super embarrassed about… yeah, VERY unedited…) but still, to hold "my" book in my hands was SUPER SUPER COOL, especially because it felt so very much like God's "welcome home" present to Annabelle and I! (Well, more me, but I like to think Annabelle thought it cool too! She was too into her toys though!)
I will take a picture of ME with my own book eventually… when I get a chance to actually DO my hair and look half-way presentable…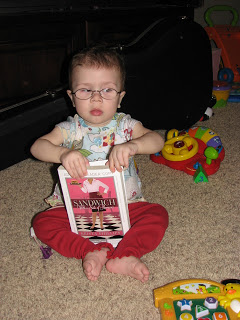 I gonna read it, Momma!!!
THANK YOU everyone for your prayers and support these last two weeks… geez, for the last two YEARS almost!
And super thanks to Heather… for sending me an EXCELLENT e-mail today with some God-given scriptures that I REALLY needed to hear today! You're awesome, my virtual friend!!