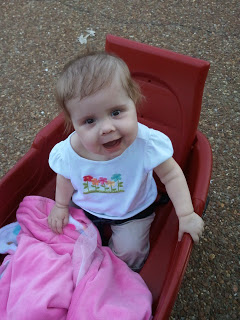 Yeah for Wagon Rides!!!
Jesus has been good this week.
What am I saying? He's good EVERY week.
But I had SO much fun announcing my "first" contract on Monday. THANK YOU everyone for celebrating with me!
And today, I have another, even BETTER, thing to celebrate.
Well, let me back up to Monday a bit. We had our monday clinic visit that day, and also a swallow study to get Annabelle approved to "try" liquids. She passed fabulously! Although, she still was NOT NOT NOT okay with eating, so we barely got said liquid down here!
Clinic was a little scary though. She had lost a POUND since discharge from the hospital the week prior. Big sign of dehydration. She looked pretty dry too. They wanted us to stay around until lab results came in, thinking there was a good possibility we might have to admit her again for IV fluids.
But we came home (Scott was with me, we only had one car, and needed to be home for the kids to get off the bus.)
They called us a few hours later, her labs showed she was dry, but not TOO dry, so no need for admitting! YEAH!!! We adjusted her feeds to add more water, and we have to go back tomorrow for another check.
Monday night, Annabelle and I did our daily "try" to eat routine. Usually this consists of me putting a spoon to her mouth, and her puckering up her lips, turning her head, and pushing it away. She is NOT a fan of "tasting" time as I call it.
Then I had this brilliant idea. It was against what some of the feeding therapists had advised, but she's my daughter and I thought, hey, let's try it.
My daughter LOVES her binky. She opens her mouth easily for her binky. So, I gave her the binky, only right before it plopped into her mouth, I shoved a bite of food in instead.
She swallowed.
I repeated.
She swallowed.
SO I again, repeated.
We did this about 20 times, eating 1/4th of the jar of baby food, the most she has EVER eaten for me by mouth. Usually a few bites is victory.
I was on cloud NINE! I've been praying really hard, begging God to help us with Annabelle's eating. So this was a great victory.
And it got better. The next morning, I tried it with baby rice cereal. And she did fabulous. Ate quite a few bites.
Then at lunch, I tried it without the binky.
And you know what my daughter did??????????????????
SHE OPENED HER MOUTH! FOR THE SPOON!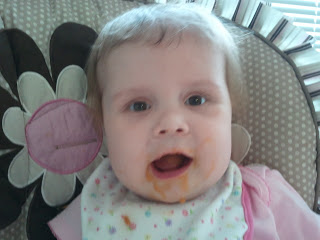 Feed me Momma!
Yes, that's right, she opened her little baby girl mouth right up, chomped on that spoon, swallowed that food, then opened up again. She even got to lean forward when I was being too slow!!!
She ate the rest of the 3/4 jar of sweet potatoes, and for dinner, ate a WHOLE jar of squash.
I'm just… yeah. I don't even know what to say. Part of me wants to pinch myself… is she really doing this well??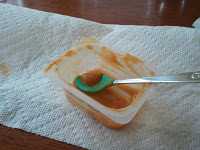 NO more Sweet potatoes!!
Last night, I thought hey, if she is doing this well, what about a sippy cup?
That did not go so grand. But without the "flow" thing on it (meaning it just drips into her mouth without her having to suck) she "drank" several sips of it. I count this as progress!!!
RE: Gtube feeds
She is still gagging some. but our routine seems to be working better. She's still having "blowout" stools which concern me a little, but I think adding rice cereal helped. THANK YOU to all those who suggested the blenderized diet and other things. I'm going to hold off for now, because she's doing MUCH better, and I want to concentrate more on her "oral" feeds than her Gtube feeds, so right now, we are holding tight with gtube feeds!
Other fun things
We roasted hot dogs for dinner outside. This is a normal thing for our family, but what was COOL is that ANNABELLE got to go outside too! Before, we didn't let her because oxygen and fire don't mix, obviously!
So she had fun sitting outside with us, which was SUPER cool!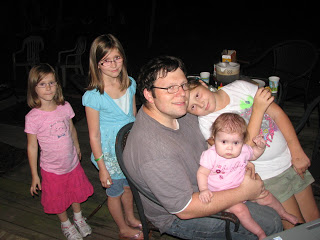 Daddy and his girls!
She also took her FIRST wagon ride around the neighborhood last week!!! I
LOVE this cooler weather so we can take her out more! She wasn't sure
what to think about it, but did a GREAT job on her ride!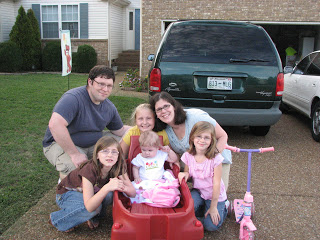 A family wagon ride! (Well, only Annabelle gets the wagon!)
And I neglected to post this yesterday but…
HAPPY 14 MONTH OLD BIRTHDAY, ANNABELLE!
I can't believe my baby is 14 months old!!!!
Oh, and we're up to 110 votes! THANK YOU for those who voted!!! Voting ends on 10/15:-)
Praying you all have a FABULOUS rest of the week!!!