While I was at conference, I checked up on the CaringBridge site for sweet little boy that I've been praying for.
Little sweet, adorable David Hood.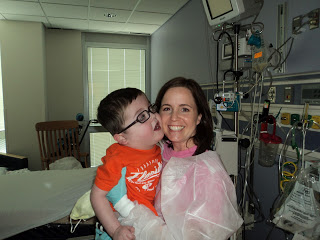 David LOVED giving his Momma's kisses! His momma says he likes to show off his ability to give kisses when guests are there. I didn't mind! SO INCREDIBLY SWEET!!!
And I saw some very discouraging news.
They'd transferred him to a bigger hospital last week to explore heart transplant as an option, as they were out of other surgical options.
But shortly after the transfer, they found that transplant was not an option due to antibodies in his blood that made him ineligible.
Which left them looking at palliative care, which basically changes the mindset of how you care for a person. Instead of looking at life extending, they look at ensuring quality of life and comfort.
My heart broke for David and his mom, Jennifer, and her husband and daughter.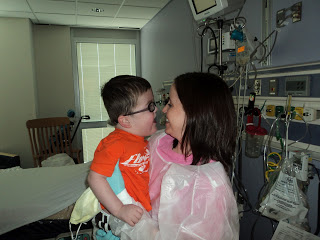 Handsome David and his wonderful Mommy!
I went to breakfast and worship at conference Saturday morning, but honestly, my heart was just breaking for them and I barely held back tears. Then, during worship, I realized something super cool.
I was in Dallas.
David is at Children's in Dallas.
So I left in the middle of worship, hightailed it back to my hotel room, and sent Jennifer a message to see if I could find a way to come see them.
I'd scheduled my flight out the next day late, so I had the whole Sunday afternoon to do what I pleased.
So, I rented a car for 2 hours (they charged 80 bucks for a cab there and back, no thanks!) and drove to see them!
LOVED LOVED talking to my sweet heart Momma friend, Jennifer! and LOVED seeing David. He is such a fighter and it brings tears to my eyes just thinking about him. He was giving his momma kisses and giving such HUGE smiles when she walked in the door. My heart melted just looking at him.
Well, the reason for my post today is to ask you to please extend your prayers for David and his family. He's taken a turn for the worse in the last day, and where as they'd hoped to have a few more years with him, now it is looking more like months… if not weeks. They have transferred him back to ICU and upped some meds, but things are just super questionable at the moment.
In her most recent David update, she noted:


I want to really live this time with David, not simply trudge through
it. Please pray that we would all be able to do that – me, Justin, and
especially Abby. These are sacred, precious hours. I pray that we
steward them well.
I LOVE THAT!
Seriously, those are the words of a woman who is serving Jesus and knows the value of every moment God gifts us with. None of us are promised tomorrow. And while having a goodbye be so immenent is so incredibly difficult, especially when it's your child, to be able to treasure and embrace each moment is a true gift and testimony to how BIG a God we serve and how absolutely amazing it is to serve him and to trust Him.
May we ALL learn to really live every single day God gives us, and not just trudge through it.
Lifting my glass of Dr. Pepper to you all for a toast. Here's to a non-trudging life!
Again, please please join me in praying for David and his family, including his big sister that I know is having a difficult time with all this, understandably. (I got to meet her too briefly… SUCH a sweet little girl!!!)