The light of day brought a MUCH better Annabelle. Over night was a little scary with some yucky sounds, yucky blood gasses, and a parade of doctors through the room off and on.
But this morning, our favorite day nurse and our favorite RT were able to suction out a bunch of gunk, and Annabelle is feeling SO much better, and her blood gasses are trending better too!
AND… we have a GOOD plan for today to get rid of a lot of things!! YEAH for that!
We got rid of her heart medicine yesterday (the one we'd been on since January that kept us in the PICU)
Today, we got rid of her ART line, so she has NO lines in her hands right now.
And depending on the chest tube output today, we might get rid of those too, which should make Annabelle feel MUCH better.
And we have her sitting up in a tumble chair, and WOW she likes it. She's breathing much easier, her liver is smaller and softer, and things are just looking MUCH better right now. Mommy feels much better now too!
Still haven't weaned a lot on her vapotherm though due to last night's issues. Hoping to get her O2 level down then we can start weaning more on her rate.
Talked to one of the ladies on the transplant team more about "going home." It's SO SO SO nice to get to talk about that!! I haven't let myself even go there for so VERY long. Am a little sad though that they said we can't take her "out" anywhere for 3 months post transplant, which means church too! Blah! But… she'll be home, and we can take her for stroller rides around the neighborhood on nice days. OHhhhh, that sounds SO SO SO nice right now!!
Here are a few pictures from this morning with PT and while she was in her chair watching Veggie-tales, her FAVORITE! We played, "Where is God when I'm scared" which I think is really appropriate! I can see the worry in her eyes sometimes, like she just really doesn't understand why things are different and why she hurts and feels so loopy. I don't want her to be scared!!! I'm praying Jesus calms her and holds her in His arms even when I'm not able to do so as much as I'd like.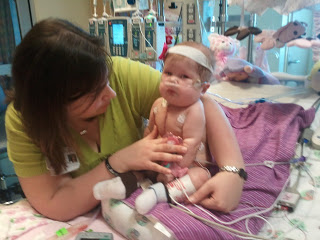 Miss Paige making her sit up for the first time since Heart Day! Annabelle and Miss Paige are good buds… MOST of the time:-)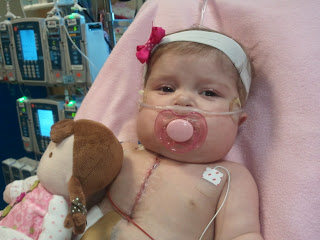 Chillin' watching a movie with Dolly. Nurse Rachel did her hair pretty! I think THAT is the real reason she's feeling better! Her hair looked pretty crazy last night… what can I say, my girl likes to look cute! 🙂 (I personally think she looks adorable even with bed-head!)