We got a new washer and dryer yesterday!
OH MY GOODNESS. I think I am in love. Yes, with my washer and dryer. Don't judge.
Let me back up. Our old washer and dryer were… interesting. Our dryer is… I don't know how many years old, at least 10 or more. Not that that is SUPER old, but it was one of the cheapest ones you could get at the time.
It wasn't a "big" size… and with 4 kids now… we needed a bigger one.
To top it off, it took 2 to 3 drying cycles to dry one load of clothes. It probably could have been fixed… but given it's age and the fact that we really needed a new one anyway that fit our now larger family, I didn't want to put any $$ into it.
Our washer was a hand-me-down from my brother-in-law. I have no clue how old it is… but it looked like it might predate ME. It worked—but I always questioned exactly how clean it got our clothes, as it was a bit dirty looking itself. It also liked to get uneven regardless how even the clothes in it were. My walls have the dents to prove it.
Through a strange series of events that are too long for this blog, we had the opportunity to purchase a new set. I still needed to be frugal but wanted to get one that wouldn't just "do." but that would fit our needs.
Every time we went to Lowes, there was this dream set. I would walk in and it's like that crazy moment when all the lights in the store would dim and a spotlight would shine directly on its pretty shiny paint and harps would play…..
Not really, but you get the idea. I literally DROOLED over them. It was the most expensive they had, so way out of my league, but you can't stop a girl from dreaming! A few weeks ago, it went on sale for a really good price ($200 off each of them, total savings of $400), but still more than we could spend.
Well, this last weekend, we went to look at it, thinking maybe, if it was still on sale, we'd finally just bit the bullet and do it, even though spending that kind of money on something made my stomach churn. (again, long story on how we could even afford that! Suffice to say, we haven't run into any money that solves all our problems… only our washer/dryer one! LOL)
We get there, and it's no longer on sale. Only a $200 rebate if you bought the pair, thus making it $200 more than the week before.
I was bummed, but it was just God saying no, so decided to be okay with it. I think God likes to be involved in our lives, even little details like what washer and dryer we buy. He knew the perfect one for our family, and I trusted that we'd know it when we found it.
We looked at others, but considering the sales price the other one HAD been, they just didn't look like good deals at all.
If you know me at all, I am REALLY REALLY REALLY in love with good deals.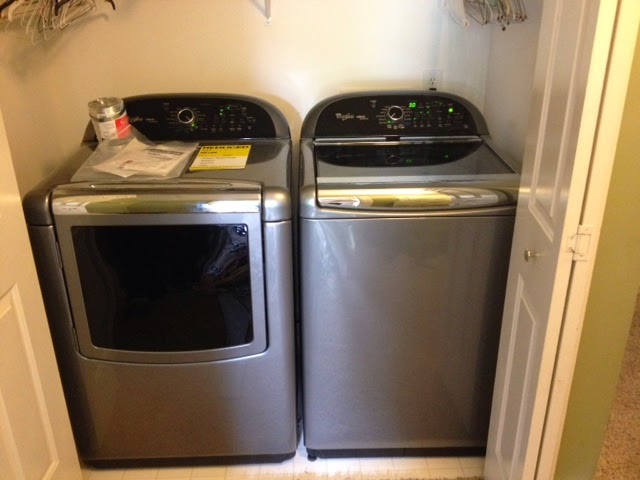 So, we turned around to leave, when out of the corner of my eye, something snatched my attention. I walked a few rows over to see MY washer and dryer… the one I dreamed of… sitting on the clearance aisle.
They were marked to each be $100 off what the old sales price had been. They weren't damaged or defective/repaired, just marked "used." Turns out, someone else had purchased a washer/dryer, had issues with it, and while the store was waiting for new ones to come in, they had "loaned" them this new set for 3 days. They'd only used it once or twice.
So therefore, we got our SUPER nice washer and dryer for $600 off the list price!
AND! That's not all… The sales guy told us because it was clearance, we probably wouldn't get the $200 rebate that it was now on it. I hadn't expected to, so no biggie.
Except when we got to the register, our rebate receipt printed off! So once we get the rebate back, we'll have gotten $800 off our dream washer/dryer!
God taught me a few things through this.
1.) While we don't always get our dream "thing" that we want… sometimes God likes to give us that little extra, because He loves us and likes to see us smile.
2.) Good things come to those who wait. We could have replaced our washer/dryer a while ago with a cheap pair that worked. But it wouldn't have fit all of our needs, definitely not any of our "wants." Sometimes God gives us seasons in life that seem frustrating and have lots of issues, but if you have patience and wait, the result will be much better than you could have imagined. Washer and Dryer issues are just a tiny thing, but I think the lesson can be applied to a lot of things in life.
3.) Laundry can be fun. My washer has a clear lid and drum light. Seriously, my kids sit there watching clothes wash in awe. I, ahem, might have spent a few minutes watching it myself…..
Discussion: Have you ever "made do" with something, only to have God show off and provide above your wildest dreams?
Oh, and front loaders or top loaders…. what's your pleasure?
I wanted the top loader… and couldn't be more happy with it!
(and before I get emails advising me not to be in love with material things… the "in love" reference was made in jest. I'm just SUPER thankful for God's provision, so more than anything, I'm IN LOVE with Jesus!!)