TEN REASONS NOT TO TRAVEL
WHILE 34 WEEKS PREGNANT!
A ten hour trip becomes about thirteen given a bathroom stop every hour.
Already swollen ankles triple in size. If I poked them with a pin and drained them, I might fill up a swimming pool when I get home.
Ohhhhh, is that a contraction??? Eight hours from home???
No, thank goodness, false alarm. But drive quickly just in case!
Due to lack of patience… three children are sitting in the back seat with muzzles on. Please don't call Children services…
Three children and hubby all have winter coats because prego woman has severe hot-flashes so runs the air full blast 100% of the time.
Prego woman gains 10 pounds from snacking the whole time. However, she blames it on water weight, all the while praying that baby hasn't really gained 10 pounds… OUCH!
Marriage is on the rocks when they get home from prego woman screaming at husband to slow down, speed up, watch out for the semi, and good grief, keep your eyes on the dad-gum road!
Crud, is that ANOTHER contraction? No, she's just kicking hard.
I can't think of #10. However, I believe the previous nine are enough to give out the sage advice that traveling this far from home for this short period of time (a day and half) is not, in most circumstances, advisable.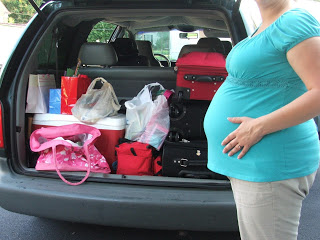 Have you ever done anything that, when half-way through, you questioned your sanity?
Also, we're traveling home today, so your prayers for all of the above, as well as safe travels, are appreciated!!!