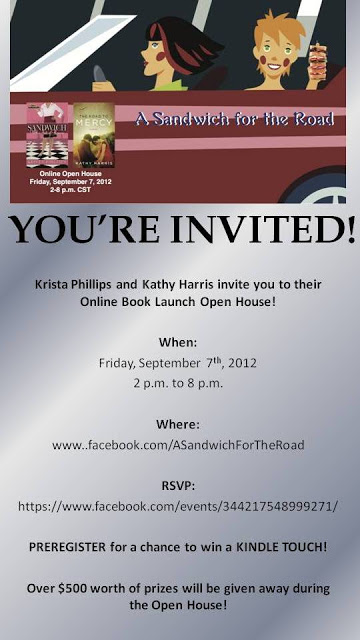 CLICK on the invite above to go RSVP.
And don't forget to preregister (link is on the RSVP site)
PLEASE feel free to share and "invite" your friends to the event!
CLARIFICATION:
This is an ONLINE party hosted on Facebook, although you don't need to be a Facebook user to participate!
So you can attend ANYWHERE you are!
(Only US residents are eligible for prizes, but you can still attend the party and have fun with us regardless of your location!)

And FYI.
I'm the one driving the car… Kathy's holding the sandwich!
The open house will be a come and go event… You're more than welcome to pop in when you come, say hi, and grab…
A Sandwich for the Road!
Discussion: Pretend you're grabbing a sandwich and hitting the road on an impromtu road trip.
Where would you go and why?