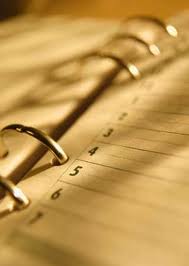 A sign that you need to get a better handle on your schedule:
You are called by your inlaws who are at your house on Monday telling you a lady is there for a 12:30 appointment. It is 12:20. You drive home (of course not speeding AT ALL *ahem*,) having forgotten that a Tuesday 10am appointment had been moved up a day to Monday.
Then on Tuesday the next day, you're getting ready to leave the house at around 11 when a guy shows up on your doorstep. You then realized you'd scheduled him to come at 11 that day because of your normally scheduled 10am appointment which was actually on Monday this week but of course you'd forgotten about that.
And this is just the tip my insanity of late.


Why can't I figure out this whole schedule thing??
I think a lot of it is that we have so many "regularly" scheduled appointments each week that changes just throw a wrench into things.
The other part is that I'm a little bit ditsy when it comes to details and with every baby I've birthed, my memory goes a little more. I write things down, but then forget to look at what I write. Or I go to write it down, but get distracted and forget.
Is there some vitamin I can take to regrow brain memory cells???


How do YOU organize your schedule and not forget critical things???