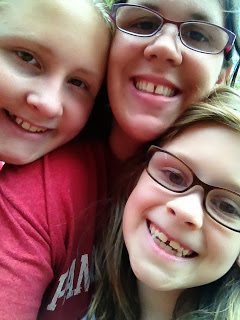 It's Fall break.
My kids were bored
Mom and Dad were broke.
Our plans to go camping were curtailed because a.) our usual camping spot is at a "national" park that is closed and b.) all the state park "tent" sites were taken.
Scott and I decided that this was the perfect opportunity to let our kids learn the VALUE of savings.
You see, they get "money" from grandparents for Christmas and birthdays. Our normal rule is they put it all in their "savings" account except for a little they can keep out to spend. This savings is for future things like a cheap CAR when they turn 16 or a very small part of their college cost, ha! But mostly, it's to show the value in SAVINGS. That instead of wasting their money on junk or silly toys they will play with for about 2 hours and then be bored with them, they can save their money and use it on something FUN or WORTHWHILE.
So, we told them we would allow them to spend a bit of their savings this weekend if they wanted to pick out something "fun" to do.
They all unanimously picked something they'd been wanting to do for a while.
They wanted to go to Holiday World! About a 3 hour drive, it's an amusement park in Santa Clause, IN. They were having their "Halloween" weekends this month at a reduced cost. So we packed up literally within just a few hours, booked a hotel with an indoor swimming pool, and headed out.
OH MY GOODNESS.
Seriously, this is probably the FUNNEST time we've had as a family in a VERY LONG TIME.
The kids TOTALLY owned it. And I think the fact that they were using their OWN money actually made the trip even better for them. We had minimal "fighting." They didn't beg to spend money on every silly souvenir, and even checked prices when they were looking at things, and turned down some expensive items because they didn't want to waste their money. They just enjoyed the park and the rides, and even Annabelle had a BLAST!! She SHOCKED me with how well she did, and she rode a ton of rides that I did NOT think she would, and didn't cry over them even one time! (She did, however, throw more than one fit over the aspect of standing in line… that was NOT a pleasant part, ha!)
On the way home, Lacy settled in her sleep and sleepily told me, "Mommy, this has been the BEST day EVER."
Yes, I was one very happy Momma!!
Discussion: What creative ways have you used to teach kiddos about savings? Or teach YOURSELF about the value of savings?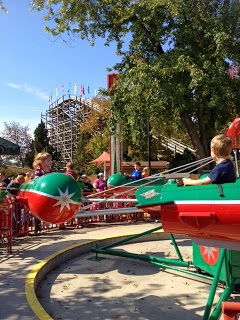 Rocket-Rider Annabelle!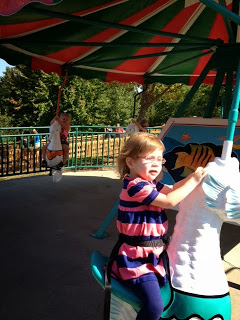 SEAHORSE Riding Annabelle! She did this ALL BY HERSELF!!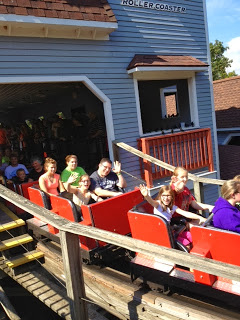 Daddy and Lacy, Kara and Gabby, getting ready to ride the Raven!