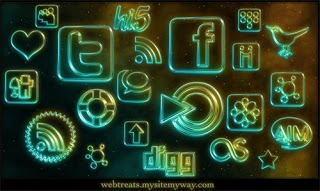 I "allowed" myself a little while yesterday of reading blogs that I've missed out on the last…. two years?
My blog reading these days is spotty because my time available is spotty. Don't get me wrong. I didn't have this excess of time yesterday. I had a billion other things I *should* have been doing.
But I've missed my blogger friends!!!!!
And really, I've missed friends in general.
Oh, I comment occassionally on facebook or when I see a tweet. And I LOVE the friendships I have with those who take the time to read MY blog and comment on my own facebook/twitter stuff, but between my own blogging, working on book stuff, being a momma to my kiddos, and taking care of Annabelle's special needs, there just isn't that much time left to go seeking others out.
And that makes me sad, because at my heart, I'm a social person!
Some of you are sayin, "Uh, what? No you're not, you're like, an anti-social hermit!" and others of you are like, "OF COURSE you are! You won't stop talking! What are those other crazy people thinking?!?"
Is it odd that half the people I know think I'm introverted and the other half think I'm super extroverted?
Does that make me an introextrovert?
Hmmm….
I guess it just makes me… me, huh.
I'll let you in on a little Krista secret: How "social" I am with you is in direct correlation with how comfortable I am. Out of my comfort zone, and I freeze up. I get scared I'll say the wrong thing, I jumble up my words and sound just stupid. When I'm comfortable and relaxed, you're searching for a muzzle to make me shut up.
On my blog… I'm super comfortable. I have to go back and delete words so my blog posts aren't miles long!
Kiddos are starting school today. I'm excited. I miss them going to school. I know… I know… I'm supposed to be super-mom that sniffles that my kids are leaving me and that I have to suffer through their absence for eight hours a day….
But this was my first summer home with the kiddos by myself. And it was a HOT summer, so we were confined to the indoors most of the time. We're all a little tired of the summer and ready to get on a schedule that allows the kids to have organized stuff to occupy them, and ME to have time to focus on Annabelle's therapy and maybe, possibly…. be a little more social minded? Connecting with others? Not being such a hermit confined in my messy dwelling? Forcing myself outside of that cozy comfort zone??
I might actually keep my house clean a little more, too. Imagine that!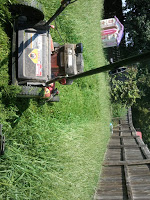 Yes, this was my lawn aka field.
And yes… I have no pride,
otherwise I wouldn't be admitting to this!
And I make sure my lawn doesn't go three weeks without being mowed thus making the grass grow close to waist deep and take almost 3 hours to complete and blistering/bruising my hands in the process…. Just sayin'. Not that anything like that happened at my house on Wednesday or anything…
*Side note* have I mentioned my high dislike of mowing the lawn? Poor hubby has been working like crazy the last few weeks, otherwise he'd have done it. I refuse to mow in 100 degree heat, or I'd have done it earlier….
Discussion: How do you manage your "social media" time? With this newfangled stuff called blogs/Facebook/Twitter… do you find yourself spending more time with "virtual" friends rather than real ones? Would you call yourself an introvert or extrovert… and does that change depending on who you're with? Or am I the only one with split personalities here….