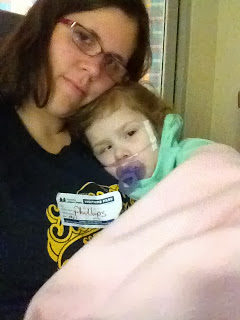 I'm sitting in Annabelle's hospital room tonight, waiting for her to go to sleep so I can go to sleep. She slept most of the evening away, so I might have a long wait!
She's graduated to a "big girl" bed for the first time vs the hospital crib. While this is GREAT for her, it makes Mommy have to be on my toes. She's hit the nurse call button probably 20 times just for fun. She also has this extreme fascination with her pulse-ox which shines a red light from her toe, even through her sock. She is forever trying to take it off and examine it. Not to mention getting annoyed at her nasal canula and taking it off. But now because of her bed, she could also fall out of bed with ease. So Mommy doesn't get many breaks from her room. Trying to sleep only when I know she's sleeping well, as we don't need to add a "fallen out of the bed" injury into the mix!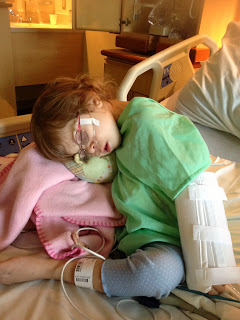 News wise, there's not much to share. Right now, she's still on oxygen, and as long as she still needs it during wakeful times at least, we have to stay. Her lungs are just junky from the mucus from RSV and they are doing some breathing treatments to try and help. She also got her stool sample back from Saturday and it came back positive for CDIFF. But her diarrhea has been much less in frequency so they are debating whether to start her back on meds for that.
She's also run fevers on and off all day today, and that hasn't helped her breathing either.
Mommy is still holding out hope that we can get off oxygen in the morning and come home tomorrow. But we're waiting and praying God would give the doctors wisdom. And of course, praying that she wows them in the morning with super clear lungs!