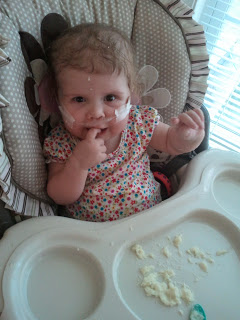 *Annabelle update*
She's doing fabulous! I tried to feed her mashed potatoes last
night. (see picture.) She actually did okay! And she was trying to play
with them just a little too, which she has NOT liked to do in the past.
(Our feeding therapist recommended letting her get her hands in it, then
maybe she would put her finger in her own mouth to taste, to help her
get used to food.)
We go back to clinic on Tuesday, praying for another great
report! We never did get our new formula (and for shame on Momma, I
forgot to call them yesterday! Gr! Will do on Tuesday…)
Hope everyone has a FANTASTIC weekend!!!!!
Super Saturday Savings
One thing I didn't get to do last year in the fall, since Annabelle was in the hospital, was GARAGE SALE. Consequently, I spent WAY too much money on clothes for her (and yes, I was determined that even hospital bound, she was clothed well, as somehow this made me feel a little better… it was something so *normal* in the midst of a lot of unnormal crud.)
So THIS year… when I am able to (aka when Scott doesn't work saturday morning) I am rubbing the sleep out of my eyes and hitting the garages!
Because I am one very cheep (I guess money-savy is a better term) Momma!
And given my unemployed status, saving money is even MORE important than ever. And clothes for 4 girls gets EXPENSIVE.
I know, hand-me-downs. But there is over 4 years between Gabby and Annabelle. I'd gotten rid of most of the girl baby clothes a while ago. Next year, I'll have a little more hand-me-downs for her, but to be honest, most of them have gone through 3 children already, so are getting a little rugged.
Today, I spent a total of $25.00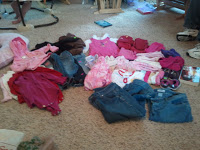 And this is what I got:
5 shirts (4 were baby gap and 1 was children's place)
5 jeans (all baby gap)
2 capris (for Karalynn, hoping she'll wear them!)
5 pairs of winter jammies for Annabelle
3 pairs of shoes (1 striderite, 1 sparkly Keds, and 1 pair for dress shoes for Lacy)
4 pairs of tights
2 pairs of socks
3 stretchy headbands
1 pair of pants
4 outfits (gymboree and baby gap)
1 sweatsuit outfit (baby gap)
2 jackets
1 dress outfit (baby gap)
1 hat with matching gloves
1 book (FOR ME!)
And pretty much everything was in LIKE NEW to excellent condition, too!
Now, some Saturday's I go out and come back with nothing. But this happened to be a really GOOD saturday, as there were quiet a few places selling stuff in Annabelle's size. The sizes ranged from 12-18 months (she's in now) to 18-24 months (I anticipate her being in the later part of the winter.)
So, anyway, that was my morning! That, and my daughter, m-i-l and I went on a walk before hand, too. *yawn* Now, I could use a nap!
Am I the only crazy garage saler out there??