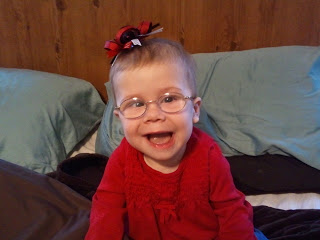 I have TWO sets of cool news to report today.
COOL THING #1:
Effective on Monday, Annabelle likes her glasses.
Prior to Monday, she would cry and scream and crawl fast the other way at the sight of them.
But I believe God knew that I needed some divine intervention before I accidentally threw her glasses in the trash… Because Monday morning, I put them on her, and she was like, "Hm, okay." We even patched for two hours and she played like nothing was going on.
Divine intervention folks, that is all I can say.
COOL THING #2:
I took a little video to SHOW you cool thing #2. My problem is, it's hard to "catch" her in the act, so I had to video her for 6 minutes before I caught her doing it! Yet, she is super cute playing with a billion toys in the 6 minutes that led up to it. But if you want to skip ahead, it's right around minute 5:50.
Please excuse my annoying baby-talk… and Super-Y playing in the background!
Yes, indeed, my baby can now PULL TO STAND! AHHHH!!!!
This Momma is ultra proud. I walked into her room to get her up from nap on Saturday, and the booger was standing in her crib! After that, I found her that evening pulling up to the TV. And since then, she pulls up on pretty much any piece of furniture that she can!!!
I can not TELL you what a huge deal this is to us!!!
At the beginning of December, she couldn't bear ANY weight on her legs and couldn't crawl. Now she is going EVERYWHERE and she's just made such GREAT progress!
NOT SO COOL NEWS:
Got a call today. A few weeks ago, we did an over-night pulse-ox study on Annabelle. I'd mentioned that she drops her sats at night some, she dips and then comes right back up, and they wanted to be sure exactly how much she was doing this.
Well, it came back that 15% of the night, she was below 90%. The acceptable range is below 5%.
So… they are making us put her back on oxygen at night:-( We'll have to be on oxygen at least until we can get a sleep study done, which won't be until end of April. AT that time, they'll evaluate how she does with and without oxygen and have a better idea of what exactly, and how much, oxygen she needs. And if she's grown and doesn't need any by then, we'll find that out too.
On one hand, I feel like a big honkin' baby for being so upset about this. It's just night oxygen. We can handle that. But it just feels like this giant step backward. More cords, and my poor baby does NOT NOT NOT like oxygen on at night. And it's just something else to add to our already crazy life.
My mother reminded me that I need to trust God, even in this. Trust him that he will give me strength even though I really really just want to collapse and throw a 2-year-old-like temper tantrum about the whole thing.
Yet, I believe God can handle our frustrations. And I'm so glad he forgives our whiny moments, because I've had my share of them lately.


BRIGHT SIDE: I have 2 sets of cool news, and only 1 set of not-so-cool news. That equals PLUS ONE baby!
And that, my friends, means progress!