After Annabelle's heart transplant, when we finally graduated out of the ICU, we were all smiles. It was weird, because it was to be the LAST time Annabelle was in the ICU.
Obviously, that wasn't to be.
But this time, as we were coming down the hallway to the elevator that would take us up to 6C "the floor", I smiled. "THIS is the last time we are leaving the ICU!" Even as I said it, I prayed I wasn't speaking too soon.
Sure enough, we got to the elevator, and a nurse came running behind us. Evidently they hadn't officially put in the transfer orders yet, so we weren't allowed to actually leave. We had to go back… you guessed it… to the ICU.
I grinned, because I think God just had a fun sense of humor that way.
A half hour later, we really DID make it out of the ICU.
This is Annabelle after we told her we were going upstairs. She was thinking about it…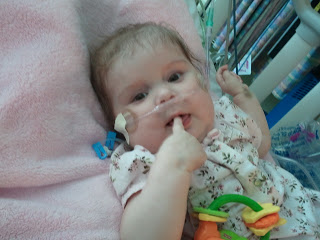 This is what she decided she felt about the matter: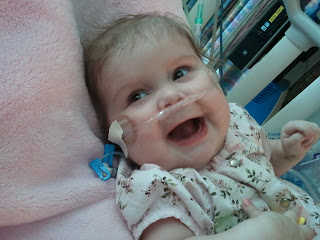 That's how Mommy feels too!!!
Her echo this morning looked even better than Friday, which is GREAT news! She is on 3/4 of a liter… sats are a little lower today than they were yesterday, so I'm a bit worried about that, but it might just take a little time, so I'm not stressing over it.
As a side note, a while ago, my hubby put fun signs in our yard that say GET WELL ANNABELLE, and when she comes home… WELCOME HOME ANNABELLE. I don't mind this, but I DO mind that he's now plastered our cars with "Pray for Annabelle". Well, I don't mind that, she can use ALL the prayers she can get, but he's also added my blog address, which is slightly (very) embarrassing. So, if you are coming to my blog because of that, please know that it was my loving, wonderful, well-meaning husband's idea, NOT mine.
Unsure of what they are thinking about regarding a "go home" date. A lot will depend on if they are still okay with us going home on oxygen. Hope to know more tomorrow after doctor's rounds tomorrow!