My weight-loss quest has been bleak at best lately. I just couldn't get past my manic need for large quantities of all things unhealthy for me.
This week, though, while I did not stay on any kind of a diet and only exercized once, I actually have results to post! Hallelujah!
Krista's Skinny Friday Results:
Week: 2 pounds skinner
Total Skinny Friday: 6 pounds skinner
Total Weight loss since August, 2010: 17 pounds
SO yeah rah for 2 pounds!
This came mostly with "doing" more around the house, and not snacking nearly as much as I was. I think this was just my bodies initial shock to not quite so much food! But, I'm hoping/praying I can get on a roll and keep lessening that food intake, doing more, and eating a little better. My goal is to get back on the "roll" I was in last year when I lost my initial 15 pounds.
The keyword for this week is: SELF-CONTROL.
I teach it to my kids, but it's SO SO SO hard to teach it to myself.
My daughter once told me, "I can't help it if I hit my sister. She just makes me so mad and my arm just hits her."
This led to a discussion about the choices we have in life, and how no one "makes" us do pretty much anything. We have self-control, meaning we control our actions. It also was a good discussion about sin and how having Jesus breaks the power sin has over us.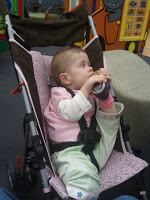 Back to weight-loss. I'm trying to remind myself that I have POWER over my eating habits, over my exercise habits. They are choices that I make, and no one MAKES me down a 2 liter of Coke in a day (only slight exaggeration…)
And really, this can be applied to all areas of our lives. Not just weight-loss.
But worry…. and spending habits… and cleaning habits… and a whole lot of other things that we (read I) have issues with.
Now, let's all sit down in a circle, hold hands, and hum really loud to bring out our inner skinny people—
Or, just eat less and do more, kay?
Or…. you could take to eating shoes instead of food like Annabelle… (see picture)
So, how did YOU do this week? And what are some things you can try to muster up some self-control and conquer this next week?