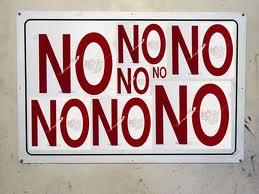 I've sloughed off Skinny Friday for quite a few weeks now.
I figured I'd better post.
And… I lost a pound! It's only one… and I fully realize that could be one less cup of water I drank… but a pound is a pound and WOOT for that.
No is such a hard word, isn't it?
Well, it's EASY when it comes to my kids. I can say "No" in at least two different languages (English and Spanish…) and I can sing it in a variety of different genres… from country to rock to some high squeaky soprano Opera notes… (that REALLY irritates my kids… quite fun though… and occasionally I'll get a laugh…)
But when it comes to eating… telling myself no is proving difficult.
The "Just one more" and the "After this one I'll stop…" KILL my diet. They really just do.
Yet… I continue to do it. *big sigh*
Last fall, I was doing GREAT at this. I was on a roll, I had encouragement (my husband was home at the time and unemployed, so we could tell each other no together!) and I had will-power.
Now? Not so much. Life is in full swing and all my power is going into that… so non is left for poor will…
So the last few days, I've been practicing telling myself no.
I don't do it all the time. I'm easing myself back into it. But I'm trying to tell myself no to something I want to eat at least twice a day.
For example: It's Thursday night… and I'm dying to have a Coke. I have a 12 pack out in the garage that is saying, "Krista… you know you want me… just throw me in the freezer for 20 minutes… I'll be nice and cold and refreshing and bubbly down your throat… it'll be so good… come on… I'm lonely out there… just a little sip… you want me. YOU WANT ME!!!"
And… it's right. I DO want it. Badly.
But I'm saying no. Mostly because I want to be able to tell you on this blog that I said no, otherwise I'd have to erase what I just wrote and find a different example. So, I guess it comes down to laziness?? Hmm…
So yes, I'm saying no, and holding steadfast.
I can do this. I CAN DO THIS!
Discussion:
What have you told yourself "no" to lately that you wanted REALLY badly but didn't really need and know you should really have?
And those of you who are doing Skinny Friday… how goes the war??
**NOTE**
If you didn't read Annabelle's AWESOME news yesterday… Go read yesterday's blog posthaste!