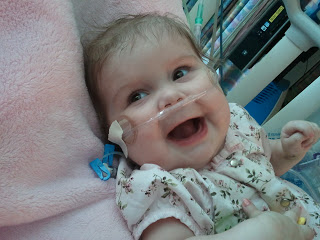 An oldy but a goody… MAN that girl was/is cute!!!!
My Way-To-Simplify tip for the day:
Don't be afraid to take a break.
To demonstrate, I'm going to take a break from blogging this week. I have an insanely busy week full of dentist appointments for all my kids, eye doctor appointments, therapies, softball tournaments (which means at LEAST 2 games per kid if not more) plus softball parties, plus my in-laws are coming on Friday and I'd really like to have my house clean for them (even know I know they understand and have come to our messy house on a billion occasions) AND I have Gabby's birthday party on Sunday to get ready for.
So yeah, this Momma is taking today to relax and get a few outstanding things on my plate out of the way, and is going to operate on an "as needed only" basis the rest of this crazy, crazy week.
I'll be back in a week with something hugely witty and charming to say, I'm sure.
Until then, Happy Memorial Day, and a BIG HUGE GIGANTIC THANK YOU to all those who have served, are serving, and especially to the families of those who have given the ultimate sacrifice for their country.