There is a point in time in our lives (for many people, several points!) where we come to the realization that what we're currently doing MUST change, because it's just not working.
This is the realization I've come to over the past month.
Overwhelmed is a great understatement of how I've been feeling.
While I point out to myself daily (and what others have pointed out to me as well… and rightly so) that we are in a MUCH MUCH MUCH better spot than we were last year…
I've come to the conclusion that it's different, and I have a right to be overwhelmed, dad-gum-it. (picture me stomping my foot here for emphasis!)
Because, I think that has been partly what has tipped me over the edge. (Bare with me here in this logic…)
When the feeling of complete helplessness and inability to handle things comes over me–anywhere from once a day to a billion times a day, I have the added guilt of my inner-self saying, "But you really shouldn't feel this way… at least Annabelle is ALIVE… you're not in the hospital anymore… stop belly aching and get over it!"
But… my internal chastising doesn't help how I FEEL. In fact, it just adds guilt to my list of things I'm trying to hurdle over.
I struggled with how to write this post. It's part of the reason that I didn't blog most of last week. There I was, on Annabelle's heart day, a day where I should have been (and was) overjoyed… but I was still struggling. A lot. And I didn't like it one little bit.
So I spent the week focusing, for the most part, on getting things done. Marking things off the list (that I keep in my head… I know I should write it down, but seeing it on paper overwhelms me more… and gives me another task to do, keeping up with the list!) and just really praying over what I can do to overcome this not-good-spot that I've found myself in.
In talking with other heart mommas over the last two years, I think it is something common we all feel, and it's hard to put into words, and frankly, hard to understand for those looking from the outside.
Our kids are getting better. We should be ecstatic and overjoyed and able to handle the smaller hurdles with ease. What in the world is our problem?!?
Here are a few conclusions I've come to:
Just because you've made it through the "horrific" stuff doesn't make the "hard" stuff any easier. (Warning, gross analogy forthcoming…) Just because a guy gets his arm cut off by a saw one year doesn't make getting a toe cut off the next year any less painful. Yeah, maybe it hurts a little less, but it still hurts. So feeling guilt about struggling with "smaller" issues is silly. A struggle is a struggle, and God still wants to be God of that.
Hospital vs Home is like comparing a dump truck to a motorcycle. They are a whole different can of worms. YES, I'll take home over the hospital every day of the week (as long as Annabelle is home WITH me) but they are just different and can't be/shouldn't be compared.
The hospital is obviously hard. We were there because Annabelle was sick. But… I was also able to leave when I needed a break. I had nurses to give/remind me to give meds, and they'd come check in and help at a moments notice. A cleaning lady came and dumped the trash and mopped the floors and scrubbed the bathroom. Care-partners helped change diapers and change beds. I had a doctor at my disposal 100% of the day, that I could ask questions if I was worried about something. I can plug my ears to the "issues" at home and give 100% of my attention to getting my baby better.
At home… I am nurse, cleaning lady, care partner and would-be doctor, as well as physical therapist, occupational therapist, and feeding therapist. On top of those things, I'm also mom to Annabelle and 3 other girls who need my attention very much. I have a husband who works 70+ hours a week and just literally doesn't have time to help like he'd want. Oh, and I also do this little thing called writing books, and need to focus time and energy on it, otherwise sooner than I'd like, I'm going to be sending out job applications, because you can only extract so much blood from our sickly finances before they fizzle up and die.
Yes… hospital and home are very, very different. Please don't think I'm complaining about being home. This is part of the reason I haven't expressed my thoughts much on this before. But… it's just different. And just because I LOVE being out of the hospital doesn't mean it is easy, or even handle-able.
Help is still very much needed. I've been trying to do it all myself. I'll ask for help from my family now and again, I've gotten a LITTLE better at that. But I'm realizing that this is my overall frame of mind: God got me through the really crazy stuff… now I should be able to handle the everyday life… right?
But God wants to handle our everyday life, too. He wants us to lean on HIM and trust HIM in EVERYTHING, not just the hard stuff. And everyday life, at this point, isn't exactly a stroll-in-the-park.
Fear is still real. I know, I know, we aren't suppose to fear. And fear is much different at home than it is in the hospital, especially when she was in critical condition. But it's still there, nagging at me. I still experience that breathless catch in my lungs when I look at her sleeping until I see her chest rise and fall with a breath. Every time she's sleepier than normal, my immediate thought is, "Oh my goodness, what if this is it. The start of rejection." Every cough now makes me think RSV or fluid buildup in the lungs from heart failure.
I correct myself fast. I know enough to remind myself that these are all NORMAL the majority of the time. But with a heart baby, there is a never a promise that it will always be normal. With Annabelle, there is the always the fear of rejection, the fear of illness that her body won't be able to fight.
I have to daily give that fear to God, and really, I do. I'm not wallowing in it. But it wears on a Momma after a while. It makes a Momma tired, and makes her feel guilty for feeling it in the first place.
Comparison is from Satan. It is so easy to get caught up in comparing, on BOTH ends of the spectrum.
When I see a baby Annabelle's age or younger doing fabulous, my immediate thought is sadness. Not for me, but for Annabelle. That she isn't doing those things yet. And, I'll be honest, a wee bit of jealousy.
And when I hear of a heart baby who went to be with Jesus, my heart absolutely breaks. And then I feel a little bit of relief… that Annabelle is still here. And that is followed by a boatload of guilt, for 1.) feeling relieved and 2.) feeling overwhelmed with life when at least I still have my baby.
Do you notice a lot of the G word in this post?
While feeling guilt can be a GOOD thing sometimes (means you are remorseful for something you've done wrong…) it can also be from Satan too. Trying to trap you underneath it and make you immobile.
And that's where I've been lately. It's not just from the guilt… but that has definitely not helped things lately.
So… the question is, what do I do to point myself and my family back on the track of sane-living?
I'm a big believer that the first step is "recognizing" that there is a problem. I'm at that step.
The next step, for me, is to take a big step back and figure out what isn't working. That's what I've been doing this last week, and I'll talk more about that on Wednesday. We've already taken some pretty big steps toward this, some more pleasant than others.
For now, enjoy some pictures!!!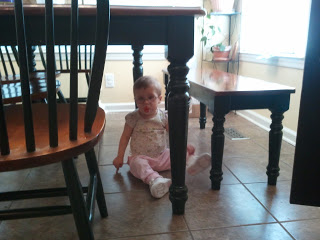 Look mom! I can crawl under the table! Annabelle is getting VERY curious about things lately… and crawls EVERYWHERE!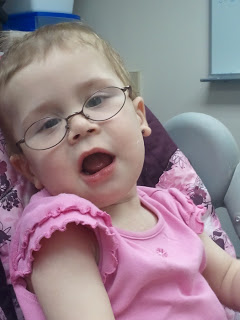 Feeding therapy… say AHHHHHH!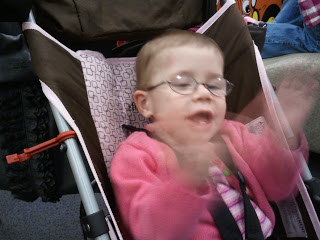 Clapping her hands before PT!!!!! Let me tell ya… she wasn't clapping afterward….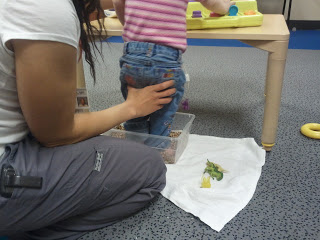 And this is why… to prep her feet for braces and get her less sensitive… we tried to get her feet used to different textures. Yes, my baby is standing in a bin full of beans!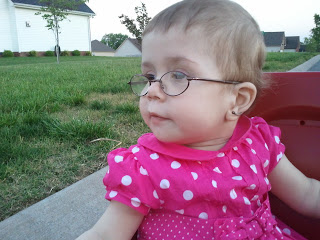 Taking a walk with big sisters and mommy! MAN this is fun!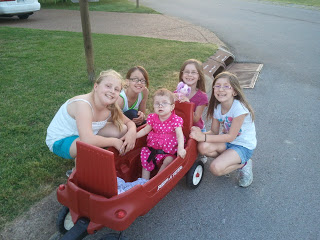 The crew… plus a friend who tagged along!