HA! No, no business talk today. And given my previous job, Mergers and Consolidations give me a bit of a tick in my neck at the thought… (I was a payroll manager, and our company liked to buy, merge, and consolidate companies quite a bit… made my job… fun… *ahem*)
When a business merges, there are good reasons. Efficiencies that can be found, money that can be saved, and a variety of other reasons, but those first two are a big part of it many times.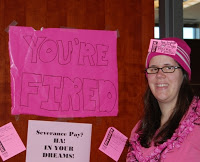 I, uh, dressed up as a pink slip for Halloween one year
for work… Can't believe I'm actually posting this….
I'm finding that I need to do some consolidation in my home as well.
If I do something 7 times a week that takes 15 minutes each, and consolidate and just do it one time a week for 25 minutes…
15 x 7 = 1 hour and 45 minutes
Verses 25 minutes…
Voila! A savings of 1 hour and 20 minutes!
You non-math people are cringing right now, I know. Sorry.
Here are a few examples of things in MY schedule that I'm attempting to merge or consolidate, or have successfully done in the past. I'm ever keeping an eye out for other things as well!
Appointments
At any given time we have appointments with cardiology (echo/EKG/Dr visit/Labs,) Cardiology (labs only), pulmonology, GI, eye doctor, dentist, pediatrician, hearing specialists, feeding therapist, physical therapist, occupational therapist, early interventionist, and I know I'm probably forgetting one or two others. (we used to see ENT but thankfully we're done with them at the moment!)
When we first got home, this was absolute chaos. It's settled out just a bit now… but it's still overwhelming.
Unfortunately, it is almost impossible to consolidate doctor appointments. Specialists are booked out months in advance, and have super limited timeslots that they see patients, and rarely do they every work in my schedule's favor.
In my attempt to reign in the madness, I took a long hard look at therapy appointments, the only place I had any say over. Right now we have 3 different therapies on a weekly basis on two different days. My goal is to change them to be all on the same day. Not only will this consolidate appointments to one day, but it will also save on gas and wear/tear on our aging vehicle, which is a HUGE thing for us these days. I average 3 trips a week to Nashville (a 45 minute drive) so this will take me down to one or two trips a week.
I'm still working with all the therapists to find a solution, and my sister has offered us to "nap" at her house between appointments, so I'm praying this consolidation works and eases things a bit for both Annabelle and I! If worst comes to worst, we'll switched to every-other-week therapy. My last resort, because I REALLY think she needs it weekly, but I hope to avoid that for now.
Food Prep
A while back, I started preparing Annabelle's formula a day in advance. It works super great, I make a pitcher full and just have to get out what I need at any given point without any additional mixing.
But each day, I make a mess trying to measure out formula out of small containerss and then I have to clean what I measure it with and in general, it's just another daily mess I make and have to clean up.
So today, when I was contemplating the idea of "merging" and "consolidating" at home, I had a brilliant idea. What if I did the "measuring" of her formula powder on a weekly basis. One can of formula makes about a day and a half worth of food. So, today, when I measured out her formula, I took 2 emptied cans and a tupperware container, and I measured out 3 extra days worth of formula, put lids on them, and was done.
So, from now until Thursday, when I have to prepare her food, I just pour in the water, pour in the pre-measured formula, stir, and I'm done. No hunting for measuring cups. No spilling power all over the counter as I try to make sure the amount is level. No cleaning up a mess.
I figure on Thursday, by the time I refill the empty containers I have, I'll have more empty containers, and can fix a weeks worth of formula. Heck, I might be REALLY crazy and get in the habit of measuring a months worth, once a month, when her formula is delivered. I would MUCH rather spend an hour once a month doing something than 15 minutes a day….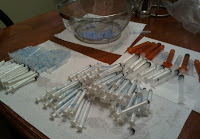 Our weekly syringe party…
Other stuff…
I do the same thing with a few other things, like cleaning her medicine syringes. I have about a weeks worth of syringes. I rinse them out as I use them, but keep a bin of them and sterilize them once a week.
I also make up her meds a day in advance (not allowed to do it any less often… darn…)
When NOT to consolidate
Never mind mergers and consolidations… when it comes to laundry and cleaning, they are two places where I would LOVE LOVE LOVE to outsource.
Same with mowing the lawn (a wretched task I'm trying to take over to help my hubby… although I refuse to weed-eat… I'm not THAT good of a wife…)
Seriously, I tried to consolidate. Get in and do all the laundry in one day. But it just doesn't work. In the first place, it LITERALLY would take a whole day to do it. And I rarely have a whole day to do one thing. And second, we are family of 6. Laundry comes out of our ears when I wait that long (aka what my hallway looks like right now… it's not pretty. I'd post a picture but… I have a little bit of pride left. Not much, but a little.)
I'm learning that, for my sanity, that it's best to stay on TOP of these things and do them little bits at a time. I get less overwhelmed that way.
But… it's easier said than done, and I'm still a work in progress on this part, as evidenced by my extremely messy house and my ultra embarrassment when anyone walks in and sees it….
Discussion: What are some areas where YOU can consolidate? And… do you hate doing laundry as much as I do???