First, thank you to everyone who commented on Monday's post. I want to reiterate that while dealing with the "homecoming" of a sick child is where I'm coming from… it's applicable to so many situations when you're faced with something difficult or tragic, then having to return to a new, much more difficult normal.
In my quest to find non-medicated sanity, I decided my first step needed to find the easy stuff to take off my "stresses" list. The stuff that just isn't as important as everything else so go at the bottom of my internal priority list, so I haven't dealt with it yet, but they are stress points that, together, can add up.
They are also things I've been dragging my feet on because I just don't want to do, but know I need to do.
Old Example:
In Annabelle's early days in the hospital, I lost my cellphone. I was frantic over it and I just did NOT need to be dealing with not being able to contact my family in emergencies. So I bought a new, cheap phone. And… it didn't work. So I returned it, assuming I'd just gotten a dud, and just got a new one of the same kind. But the same thing happened. Dropped calls, screen messing up…
At that point, Annabelle was doing VERY badly, failing extubation left and right, and I felt completely helpless. I looked at that cheap little phone in my hand, then looked at my husband and said, "You know what. I can't do a thing here to make Annabelle better. But this is one stress that money can solve."
I returned the phone and bought the most expensive one they had (and she gave me $100 off… said they'd just forgotten to change the price-tag since they had just lowered it the day before… but yeah. She lied. We checked a month later and the price was still the higher one. God works in amazing ways… and through really nice sales clerks!)
The Vacuum

Now, I was still getting a paycheck back then. So I'm not quite so free with using money to cure my stresses. However, one of my current areas of frustration that I'd put on the bottom of my list was my vacuum.
It broke about a month ago. It's probably something stupid like a belt, but I know NOTHING about vacuums, my hubby didn't have time to fix it, and meanwhile, my immune-suppressed baby is crawling around and dropping her binky on dirty floors. Ugh! To add to it, I'd been frustrated before that anyway because we had a pretty cheapish one, and I could see that it wasn't picking up all the dirt/dog hairs. I hated knowing Annabelle was putting toys in her mouth that had rested on that nasty floor.
So, at my hubby's encouragement, I broke down and bought a NICE vacuum. I'm still hyperventilating over the cost. But my carpet is cleaner than it has been since it was installed. ANd I breathe easier knowing my daughter isn't eating dirt constantly.
A trip to the store and a bit of (albeit guilt-ridden) money eliminated two stresses. It was like a stress-release sale! SOLD.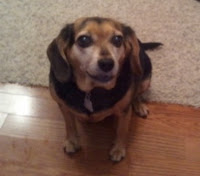 The Dog
This was not "easy" stuff. It was the least time-consuming and actually saves us quite a bit of money, but it was super hard.
We've had our dog, Emma, for going on five years. She's half Beagle/half ??. She's never been the most easy dog for our family. She took delight in digging out of our fence in the backyard, darted outside every time we opened the front door, and had the most pitiful bark (actually, more of a painful howl) you have ever heard.
Since bringing Annabelle home, it's been doubling hard to deal with our sweet dog. I won't go into all the details… but the final straw was a month ago when she brought a baby bunny into our living room and was chewing it right there on the carpet. Right where Annabelle plays.
We spent the last month looking for a new home for her, trying to find either someone who would take her or a no-kill animal shelter she could go to. No luck. So last week, after coming to my complete end of my rope and about having a nervous breakdown (literally…), we made the super super hard decision to take her to the animal shelter.
My hubby and I both cried. My kids cried (especially my eldest.) But in the end, we couldn't afford her. We weren't giving her the time she deserves. And I wasn't able to mentally handle taking care of her on top of everything that goes along with caring for Annabelle. And it was just time to say goodbye.
Please don't think I'm a horrible person for doing this. I love dogs, I really do. But my family comes first, Annabelle's health comes first. It was a stress that I just couldn't handle anymore.
Other Stuff
I could give you a decent sized list of other little things I've done just to "get them out of the way" or get rid of a stress. Our garage sale a few weeks ago was one of them. I just wanted the junk GONE! And I've found much more since then… will be going to my sister's garage sale this Saturday!
But I won't bore you with my whole list.
The point is: If you find yourself overwhelmed… take a step back. Pick the quickest things you can mark off your list or eliminate that will give you the most "relief" for your buck, so to speak. Take a day, set everything else aside and just knock-em out.
It'll shorten your list, and maybe, just maybe, give you a little breathing room.
HA! I guess in Dave Ramsey terms… it's a stress-snowball instead of a debt-snowball:-)
*****
Discussion: Anyone have some examples of things YOU'VE eliminated for the sake of sanity??
*****
Simplifying Me is going to be a series for a while, posted on Mondays. Not sure how long, but I'm a work in progress, and sharing with you helps keep ME accountable too. And I pray that God might use something he's pounding into MY head to make help someone else too. Guess that's the whole reason I blog anyway!
Wednesday's will usually be reserved for fun posts/Annabelle updates.
Friday's… well, they will be Skinny Friday's, although I may veer off in other directions ever few weeks or so:-)