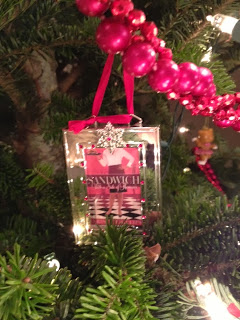 Thanks, Kaye Dacus, for my lovely ornament
last year!!! I LOVE IT!
It's been a while since I've done a "promotion" post.
So forgive me my indulgence… but wanted to let everyone know that Sandwich, With a Side of Romance is only $5.98 on Amazon (retail is $14.99). Not sure how long the price wil remain, but if you're looking for a last minute Christmas present for a reader friend, my little pink book would be a great option!
The Kindle version is also only $5.68.
Wow… I can't believe this is the SECOND Christmas since my book has been out!!!
And I'm SUPER excited to announce that, while I'm not quite sure of the future yet, I've finished writing the first sequel to Sandwich! I've even done a first round of edits on it as well. This book the story of Rachel, who you met very briefly at the end of Sandwich. It is a novella, about a third of the size of a regular book, and my plans (subject to change) are currently to self-publish it next year. I also have 2 other novellas in the planning/writing stage that I hope will follow shortly after that will also be set in Sandwich.
I'm REALLY excited about this new venture. While publishing my own books was not my goal, it is a great "gap" filler until my next full length novel can be published in paper. In today's publishing world, that can take up to 2 YEARS to happen.
While I would have loved to follow Sandwich up with a book sooner, it just wasn't meant to be. Between adjusting to Annabelle being home and her many medical needs, and the large amount of time investment it takes when a book is published, Momma was just spent and needed to focus on my family for a while.
But I'm so thankful that my writing juices have begun to flow this past year, and God is laying desires on my heart again writing wise. My writing time, while not overflowing in abundance, is a little more manageable.
I'm SO excited to see what the next year holds!!!
What about you? Any dreams for the coming year? Any fun goals you're looking forward to?
I'd also LOVE to know if there is any special character from Sandwich you'd like to see have a story of their own!
I know some have mentioned Allie, but unless I want to kill Stew off and find her someone new…
But alas, I like Stew and Allie Crum way too much for that!