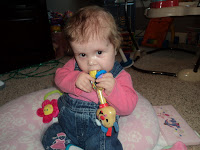 I. Like. Routines.
I have not always been like this. In fact, I'm a big believer in having spontaneous fun, too.
Yet now that I'm at home with my kiddos, I find myself CRAVING a routine. One that has been sorely missing in my household.
Even though I recognize the need, I'm having trouble implementing. Something ALWAYS comes up, puts a wrench in my plans, and I *feel* like the day is ruined.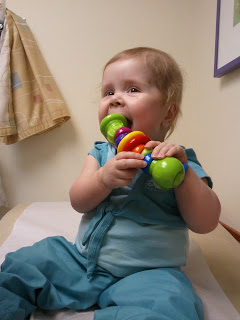 Happy at our last, weekly clinic visit!
On a POSITIVE note though… we are finally down to EVERY OTHER WEEK clinic visits! So next monday will be the FIRST time we do NOT have to go to Nashville in, well, since Annabelle has been home, as a matter of fact.
I am so utterly excited! I try not to think about the fact that we SHOULD be down to monthly visits by now. I am choosing to focus on the positive.
Speaking of focusing on the positive,
I have a confession to make. And it is not a very "Christ"-like one, but is very honest.
While Annabelle was in the hospital, one of the big things I struggled with personally was jealousy. I'd see babies with similar heart defects come into the unit and sail through their surgeries.
When I saw them happily going off to the "floor" or to home after only a week in the hospital… I would rejoice with them, but in private, had to swallow the lump of jealousy that sat (rather uncomfortably) somewhere behind my tongue.
I tried so hard not to ask God "Why" because I knew the question was futile. His answer is always the same, "Hush, my child. I'm with you. Trust me. Keep going."
I'd have to deal with righteous jealousy, too, hen a little baby in the unit would fight so hard but in the end, became a fallen hero to CHD (Congenital Heart Defect.) Why God? Why did they not make it but Annabelle did? Why did they not make it but all these other babies are doing fabulous?
The answer was the same. "Hush, my child. I'm with them. Trust me. Keep going."
I thought I left jealousy behind when we left the hospital. Finally, we were having OUR turn to live outside the sterile walls of Vanderbilt Children's Hospital.
Most days I do well and can focus on all the good things. I can be thankful.
But I'll be honest with you (and a LOT ashamed of myself.) I swallowed a little pill of jealousy the other day again.
Remember baby Scarlet? Who the doctors gave little hope of being able to survive until heart transplant? Who finally got her heart a week ago Monday?
Well, she is doing FABULOUS! From everything I can tell from her mom's facebook page, she is doing just amazing. She is on NO oxygen, is already eating by mouth, and they are talking about discharge next week!
Don't get me wrong. I am happy dancing for them. This news is SO very amazing and God is SO SO SO SO SO wonderful to bless them like this. To go from the doctors telling you to make a plan for how you want your baby's death to go, to getting to take your baby HOME just two weeks later…. there are no words for how wonderful that is!!!! Can I get an amen?!?
But, in my low, frustrated moments, I can't help but be a little jealous. Annabelle spent over SIX weeks recovering from her transplant, including another surgery on her diaphragm. We never could get her off oxygen before coming home. And we have spent another 30 days in 5 different hospital stays since coming home, including suspected rejection, another emergency open-heart for her failing new heart, an ambulance/lifeflight ride which required CPR and emergency on-the-road intubation.
Not to mention our continued feeding and physical therapy issues.
I'm not having a pity-party. Okay, maybe a little-bitty one.
I guess I tell you this for a few reasons:
One, so many people comment on how well I take all this. I just want to be honest and let you know I have huge down-times too, where I don't handle it how I should. We're all human. I'm thankful God understands and loves me anyway.
Two, to ask for your continued prayers for our family. I am SO SO SO SO thankful for how WELL Annabelle is doing. But some days, many days, it's just plain hard.
***Annabelle Update***
She's doing well. Still eating sometimes, not eating other times. We've introduced a sippy cup. Annabelle has introduced the sippy cup to the floor.
We were able to go down on her diuretic to only once a day, which means she is peeing like a champ which we are SO SO SO grateful for!
Stools are still not-so-pleasant, but not as bad as they have been. I won't go into detail in case you are eating while you read this… HA!
Otherwise, we are doing well! She got to SWING in her big-girl swing outside the other day for the first time!! She has now decided that instead of screaming the entire time, baths aren't quite so bad. And the other day, Scott walked in the door, and she squeeled. The first time she's done that! SO cute to hear!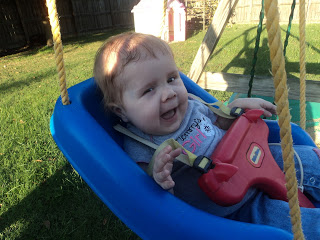 She frowned the whole time… until she saw the camera!
And we think she is finally starting to teethe. I don't see any teeth yet, however she is chewing on EVERYTHING! Including Dad's guitar…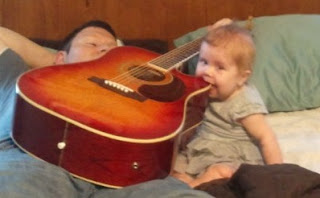 So yes, while the green monster of jealous does sneak in every now and again, I am still oh-so-thankful for the blessings God has given us. I take no good day for granted.
And now, for a viewing to see how much Annabelle LOVES CARROTS!!! (HA!) (it wouldn't be so long, but I was trying to get the princess to "talk" to you with hers ahhh ahhh's but she wouldn't, the stinker!)
And forgive my baby talk. You don't realize how stupid you sound until you have it on video *grin*