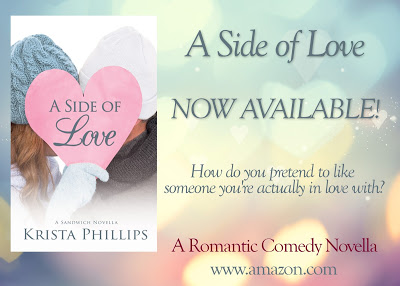 It's finally here!
The FINAL Sandwich Novella releases TODAY!
A Side of Love is Beth and Garrett's story, and oh. My. Goodness. I had a blast writing it.
It's funny. I write very seat-of-the-pants, which means I don't do a ton of outlining or plotting before I sit down and write. I usually get a few chapters in, then sit back and do a really, really rough plan of where I'm going.
This story — I got to that point and tried several ideas — but they all felt stupid. Trite. Boring. Like I was trying to hard to figure out the story other people would want to hear.
So I sat back and just brainstormed, trying to come up with the craziest, goofiest ideas I could come up with.
I dismissed probably a hundred of them. And then I had this hilarious idea. It was gonna be stupid, and no one would probably think it humorous except me, but I decided for kicks and giggles to start down that path anyway.
THis is the first book in a while where I've actually laughed while writing it. Because I was literally writing for my own pleasure just to take the story somewhere it would tickle me.
I figured the whole time, I'd have to toss the whole thing because I'd be the only one who remotely thought it was fun.
But in the end, I figure — if I liked it, then SURELY someone else would too, right?
Now you're probably wondering what in the world I wrote. There is a decent chance you'll read it and be like — uh…. okay? But I'm hoping maybe someone else will get a kick out of the story as much as I did!
Regardless, my hope is that you'll be reminded of the beauty of love, not only romantic love (although definitely that too!) but of the Love of our Savior as well.