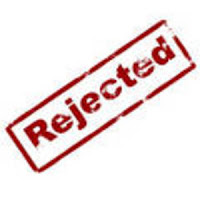 I've heard many stories from published authors about rejection. Usually they are what I would entitle "horror" stories. "Don't worry about it… I've got 50 rejection letters in my drawer from before I got published. Brush it off and keep going!"
FIFTY?!?
Be still my heart, I might faint!
Seriously, am I the only one who has this sinking feeling every time you hear those stories? Sure, they say it to encourage you. To let you know that no matter how many rejections you get, there is still hope. Don't quit, keep going.
Some days I question though. Would I be able to make it to FIFTY rejections? I mean, there aren't even that many publishers or agents of Christian fiction, is there?!? That would mean EVERYONE would have to reject me, and many of them more than once. *groan*
But then God reminds me of a few things. 1.) He's in control. 2.) That is THEIR story, not mine. 3.) If it is in His plan for me to get rejected 50 times before publication, then He'll give me the strength and forbearance to endure it. *groan*.
I reached a milestone on Friday. I received my first rejection on a full manuscript submission (second rejection overall…not counting the no replies very early on when I had no clue what I was doing.) I debated all weekend whether to post on this, but I think it's applicable to my writing journey and therefore document-able:-)
Here was the short e-mail rejection:
Dear Krista,
I very much enjoyed meeting with you during ACFW. Thank you for sending me your manuscript, LOL: Mission Jack. I read your story and think your writing is good, but I don't think your project is quite ready for representation. At this point, I think it lacks the depth needed to make it stand out as a unique offering to the market. I encourage you to meet with critique partners and to revise. The idea is a good one and you should continue working on it!
I wish you the best as you continue down the road to publication!
When I received, I promptly did what every other ultra-analyzer would do. I analyzed it. Below are the results:
Pros:
"very much enjoyed meeting you." At least it wasn't, "oh, did you realize you forgot to wear deodorant at ACFW??"
"think your writing is good" is MUCH better than "Your writing sucks, don't quit your day job."
"idea is a good one and you should continue working on it" could have been, "trash… meet Krista's manuscript!"
I still have a full out there! And it is with an agent I would LOVE to have. That's called HOPE people!
Even if the other one rejects me… I've only queried 3 agents so far ever. There are plenty more fish in the sea!
Cons:
"don't think your project is quite ready for representation." BLAH BLAH–
"Lacks the depth needed to make it stand out as a unique offering to the market" I officially HATE the word depth.
"encourage you to meet with crit partners and to revise." I HAVE! A BILLION TIMES!
No offer of representation. Dad-gum-it!
Now… Please note on my cons. These are my GUT reactions. I think we all have them regardless of what is said. But the key is to get over our defense mechanisms and dig into your project to see what truth is there. Is this just one agents opinion, or do I really have work to do to add depth? Promptly after my analyzing, I shot off an e-mail to my crit partners, most of whom have read my full manuscript, asking their thoughts on the depth of my novel. I got back varying responses, including "No, your book has tons of depth! Don't listen to her!" and some good advice I'm mulling over.
Am I rushing out to change my manuscript? Nope. First of all, I have a different project I'm working on, and I'm in the middle of edits on another one. Just because I got one person's opinion, doesn't mean I should push everything else aside and work on it only. Second, I still have the full out there with dream agent, so I'm going to sit tight to get her opinion. If she says the same thing, then I'll know where to focus my efforts.
I also am cognizant to the fact that my rejection e-mail could be a form rejection. It's hard to tell sometimes. "Depth" could mean a ton of things. Does she think my characters need more depth, or my plot? Or maybe it just wasn't her cup of tea? So I'm gnawing on the information, keeping it in the back of my mind, but plodding forward with my current projects. I'm also in a ton of prayer about the outstanding full request. God knows the path for my writing career, and now I'm one step further along in my journey.
Discussion: How are you at handling rejection? What do you do to cope with it? Am I the only one that needs a brown paper sack at all the "50 rejection" stories??