Have you ever wanted to ask God… with sarcasm in your voice… "Really? What next? What else do ya have to add on here?"
*raising hand* I have.
I asked it about a billion times while Annabelle was in the hospital and every time I'd turn something else was going wrong, some other problem was being heaped into the mix.
I'm feeling like that today, on a much less extreme, non-life-threatening level.
Annabelle had her ENT appointment yesterday. Before seeing the doctor, we had her ears checked again. We had them checked last August, but there was fluid built up in one of them and they couldn't get an accurate reading.
This time, the eardrum showed no movement at all in both ears, noting more fluid build up. Annabelle also pokes her finger in her ear quite a bit, and given her extreme speech delay, as well as her greater risk for hearing problems due to the amounts of IV antibiotics she got while in the hospital…
Anyway, she is now going to add tubes in her ears and a sedated hearing test into the mix along with getting the bronch and tonsils/adenoids removed. Thankfully they can do this all at the same time. That's gonna be one BUSY operating room on June 18th (our tentative scheduled date.)
*big sigh*
The hearing thing has me a little worried, I'll be honest. I know it is most likely just the fluid, and once that is gone, she'll be able to hear just fabulous. But after everything else that has gone wrong…… I'm a pretty optimistic person but I'm bracing myself for the worst, which is NOT like me.
Still, it'll be fine. IT WILL BE FINE!
To add to the mix, we're having to make some pretty big decisions about jobs/work things and prayers are appreciated for that. Not going into detail here (I know… SO very much not like me!!!) but yeah… we covet your prayers.
I find it strangely odd that I felt like I was able to trust God MORE with big things like heart surgeries and heart transplants, but with "little" things like ear tubes, tonsils, jobs and money… it's all about ready to make me jump off a cliff (proverbially speaking… not suicidal yet, I promise!)
Reminding myself today that we gotta still trust Him a day at a time.
Even when I'm thoroughly baffled and discouraged, God is SO SO SO much
bigger than it all!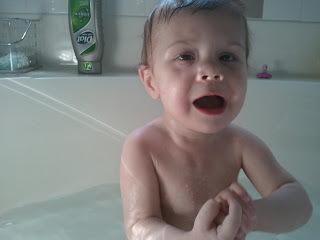 BATH TIME!!!! She had been giggling… but here she looks like she's sing Opera… HA!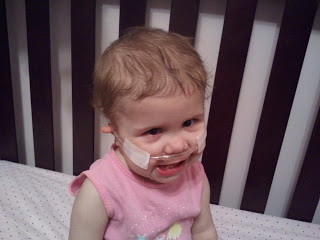 Getting ready for bed… (you can't tell very well… but she's cheesin' for the camera!