Posting quickly for TWO reasons.
First, CONGRATS to Susan for winning Kaye Dacus' "Menu for Romance."
Second, Two WONDERFUL bloggers have honored my blog with the Superior Scribbler Award, so I'd thought I'd do my "accept the award" post today. *grin*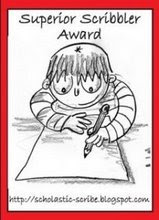 Thanks for the award, Heather and Wendy. Love BOTH of your blogs so sending the award right back at ya.
Rules to the Superior Scribbler Award
Each Superior Scribbler must in turn pass The Award on to 5 most-deserving Bloggy Friends. (HOW DO I PICK JUST FIVE!?! UGH!)
Each Superior Scribbler must link to the author & the name of the blog from whom he/she has received The Award.(CHECK, see above)
Each Superior Scribbler must display The Award on his/her blog, and link to This Post, which explains The Award.
Each Blogger who wins The Superior Scribbler Award must visit this post and add his/her name to the Mr. Linky List. That way, we'll be able to keep up-to-date on everyone who receives This Prestigious Honor! (will do so after I post this!
Each Superior Scribbler must post these rules on his/her blog.
Okay, this is almost IMPOSSIBLE to find five people who haven't already received this award (and would be a painstaking process to go through each blog I read and try to find if they've gotten one or not…). AND, it's impossible to choose between the ridiculous number of really good blogs I read anyway. (this is the reason that a few of you have "awarded" me previously with awards and I never posted on them… BUT THANK YOU very much for them… they boost my self-esteem greatly!)
What is a girl to do??
So I'm chickening out. Here are my awards and reasons:
So there you have it! I'd love to give EVERYONE an award… but know that you are all cool bloggers in my book!