Surgery went well. No complications at all. They did come back and do an Xray and found a big blob of air inside her, so they had to put in a small chest tube. It should come out tomorrow or Saturday at the latest.
Our biggest problem now is pain. My heart is breaking hearing her. I'm trying my best to console her, but still trying to keep my distance since I'm still a little junky and do NOT NOT NOT want to get her sick on top of her pain!
She's been given pain medicine, but she still moans and groans even in her sleep. It is just pitiful to hear and watch when she is constantly wincing. I want to take it away SO very badly!! They have upped the frequency she can have meds… but it doesn't seem to be helping that much. I feel like once they can get the chest tube back out, hopefully that will help some too. The incision is just in a bad spot… and is a little bigger than I expected (although some of the nurses were surprised at the smallness of the incision so I guess I was underestimating it!)
She's also running a very low fever tonight that we are keeping an eye on. It is probably just from her working herself up, but fevers are NO NO NO good!
On the BIG bright side… she was extubated before she got back to her room, and they put her immediately on nasal canula instead of vapotherm which she was on. And only of .5 of a liter!!! She is doing GREAT on that, unless of course when she is hurting and she holds her breathe between cries (also heartbreaking to watch!)
We have great hope that with her new room in her chest, she'll be able to take much deeper breathes and can get off oxygen soon and go HOME. Please, dear Jesus, let it be so!
Biggest prayer tonight though is for Annabelle to be able to sleep and not hurt so bad.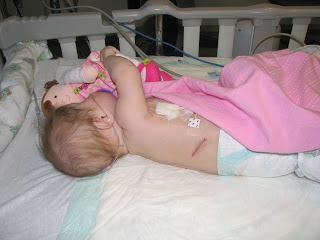 Her big ouchy incision on her back. I hurt just looking at it!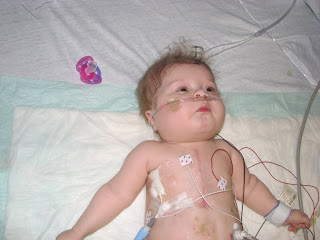 Dazed and confused after they gave her some meds to send her to happy land for chest tube incision. This is right after they did it and let Scott and I back in. She was EXTREMELY loopy and out of it!