I am SO excited to report that Annabelle is doing WELL today.
We decided NOT to take her off the ventilator this morning though. She still has a ton of fluid on her, is pretty puffy, and even though she is doing AWESOME on her CPAP trials (where she is still on the vent but she has to take her own breathes), I (we) are worried that the extra fluid would set her up to fail.
The hope is to unload a ton of fluid today then extubate tomorrow.
Her cardiologist came in and said she was VERY VERY pleased with her echo! EEEEE!!! I don't think I've EVER heard that come from the lips of a cardiologist about Annabelle. We've had a few "It's okay" but no "Very very pleased"'s!
Evidently they were anticipating her left ventricle to be worse after surgery which would be normal, then to gradually over time improve.
But her left ventricle looks BETTER!!! Not completely better, but better that prior to surgery, so that is a HUGE praise!
Her LPA is still a little small, but it is bigger, and they think they can balloon it in another cath sometime down the line, but it hopefully shouldn't cause her issues right now.
Instead of just shifting her RPA off the coronary artery… they actually moved it to be in FRONT of the aorta instead of behind, so her heart anatomy looks a bit different than normal, but that ensures that it can't lay on that artery anymore!
Right now, Annabelle is resting well, is finally off her epinephrine (drug that keeps her heart rate up, important to be able to get off it!) and for the most part, is just doing great. Mommy is pleased today!
Mommy and Daddy have had a day too.
Yesterday, Daddy had a call while we waited for surgery about a job he had applied for. They wanted to schedule an interview for THIS MORNING. Well, he went on the interview, but we are both praying about if it is the job for him. We probably won't hear back for at least three weeks. We are praying that if it ISN'T the job he should take, that he 1.) doesn't get offered it or 2.) gets something different before then! (Obviously, #2 would be preferable!)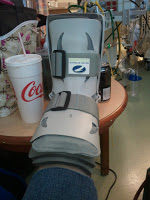 And today, Mommy went to the doctor herself. My foot has been hurting and swollen since Sunday, getting a little worse each day, so I finally gave in and went to the doctor. They said it was a stress fracture, so now I have the fun privilege of wearing a very uncomfortable boot around the hospital. Although it wasn't really fun to wear my sandals around either.
THANK YOU again for your prayers!!! It is hard seeing our baby like this again, but God is faithful. And we trust him SO very much! Our baby, our finances, my foot, are ALL in his hands, and we trust Him with it all. We keep walking (even though it may be with a limp) with Him each day!