Usually when I post a "please pray" blog it's because something bad has happened.
No worries, not this time!!
So, a new cardiologist is attending this week, and MOMMY APPROVES!!!! I didn't mind the last one, but he was a wee bit depressing in his "probably won't be able to go home" kinda talk. UGH! He'd also said that "if" we go home… he would want us off oxygen so we didn't have to deal with that at home. I had told him I didn't actually mind having oxygen at home just in case she had a spell and needed it, but he disagreed. New cardiologist, however, says that with her history, of COURSE she would need to be sent home with oxygen at least on hand even if she's off it.
Again, MOMMY APPROVES!
Also, I got a chance to talk with him for a good bit outside of rounds and expressed to him my frustration over seemingly differing plans and my feeling that by the first of January, if we aren't home, we need to go ahead and do the Glenn. He concurred. I also expressed to him if we are trying to go home, I'd like a plan. A goal if you will.
So, during doctor's rounds, he asked the resident to come up with a long term "plan" for getting Annabelle home. This, by the way, has hardly EVER been done as long as I've been on doctor's rounds for Annabelle. She's always been a "24 hour window" baby.
The plan?
Well, her last "desat" was on Friday. She did spike a fever of 102 yesterday but it came back down with no intervention, and all her blood counts are great so we aren't worried about infection at this point.
So, IF she has NO desats in the next week….
THEY WILL LET HER COME HOME FOR CHRISTMAS!!!!
To be honest, I'd given up.
Last night, for the first time, Scott and I talked about what we would do on Christmas and how we could handle all the Christmas morning/lunch at my mom's going ons and not let my baby in the hospital spend the day all by herself. This was me saying, okay God, you know best. If she needs to be here, we'll adapt. We'll obey. We'll give this to you too.
So, my prayer request is this: PLEASE PLEASE pray that Annabelle has NO NO NO breathing issues this week! Please pray that her sats remain above 75, that she remains fever free (not sure that is a deal breaker though…) and that the doctor's have WISDOM in this. I do NOT want her to come home if it will be bad for her. I really don't!
Please note, even if we come home, it might very well be temporary. We might go home for a day or two and come back. The cardologist even said, "I'd like them to go home for Christmas, even if it's just for a day." So this home-going might be very temporary, but at this point, I don't care. It's a chance.
And if God still comes back and says, "No", then I'm determined to be okay with that too. God knows BEST!
But for now…
PLEASE
PLEASE
PLEASE
Pray!!!!!!!!!
NO MORE DESATS! That is my new chant! I am NO cheerleader (short skirts and Krista are a laughing matter, trust me), but I'm about to get my pom-pom's out and do a cheer, "No more desats, that's the plan, no more desats, Let's go home in our van!" (I'm horrible at rhyming… if you can think of better ones, feel free! In fact… some corny ones in the comments section would make me laugh and smile!!!)
GOD IS GOOD!!!!!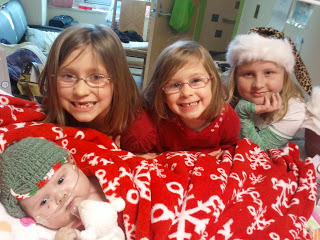 Merry Christmas from the Phillips' Girls!