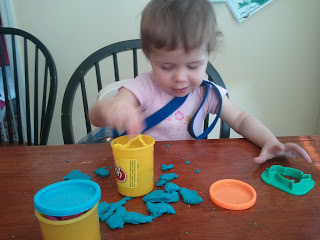 Playing with Play-dough for the first time!
CHECK UP
Annabelle had her every 2-month cardiac check up on Monday! SO SO happy that she's well enough to go out 2 months! This is only our 2nd "two month" interval, so wow, it's been SUCH a nice break! (We were going twice a week this time last year!) We still have to go on the "off" month for labs, though.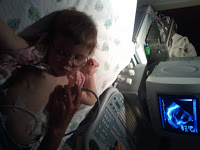 Good girl gettin' her echo!
Her ECHO and EKG look good! Her ECHO isn't perfect, still a few things that aren't 100%, but they are improving, and the heart is working fabulous for her. We are SO very thankful!
SICKIES
Some yucky bugs making their way through our house this week. Karalynn had a pretty nasty cold, and Annabelle has been perpetually snotty with a good-sized cough, but both managed them well.

Lacy got sick with a stomach bug on Wednesday, but after a few hours of emptying her stomach in a most not-fun way, she was back to her perky self! Gabby then complained of a tummy ache and said she threw up on Thursday morning… .but her throw up was more like spitting hard in the toilet, so Mommy isn't 100% convinced. Still, she stayed home from school that morning and slept, but when she was feeling better, I mad her go to school around lunch. No fever/no real puke = get thy booty to school!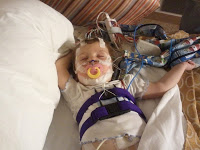 Sleep studies STINK!
SLEEP STUDY
Annabelle had her follow-up sleep study last night. *yawn* She's now passed out on the living room floor because she's so tired! Mommy feels like joining her!
But, my baby did SUPER SUPER good! It was a tremendous improvement over last times experience, partially because I knew what to expect and how to prepare.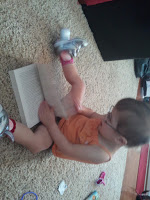 Don't mind me, just readin' Momma's book!
BOOK
I know, I know. You're probably tired of hearing about Sandwich. But TOMORROW IS RELEASE DAY!!!! AAHHH!! And, the book is now available via Kindle, although it is still technically a pre-order until tomorrow.
Scott and I are going on a date tonight (thanks, Momma, for agreeing to watch my kiddos!) so we can go have dinner to celebrate and maybe stalk a few bookstores and see if they are stocking it… and if not, asking/begging/pleading if they will! *gulp* SO VERY MUCH out of my comfort zone. Not sure if I'll actually be able to do that, but we shall see.
WHAT GOD IS SAYING
Confession: I've been VERY bad at making time to read my Bible lately and spending time with Jesus. There is no excuse for it. I NEED my time with Jesus. I'd manage things much better if I did a better job.
So, I was reading last night while waiting on Annabelle's sleep study to start, and one of the things that stood out to me was Jesus' saying, "Follow Me." Not sure why. I've read the verses a thousand times. But then this morning, I was reading a separate passage and saw the same words again. "Follow Me."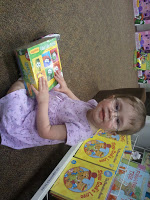 At Lifeway, showing Momma what
she wants for Christmas!
So that's what I'm mulling over today. What exactly following Jesus really MEANS. It doesn't say, "follow the religious leader of your day" or "follow me on Facebook and read all my status updates" or "follow the _________ party leader." We're to follow Jesus, to trail behind him and walk in his direction. We don't lead Him. Pointing to him where to go is pretty silly, if you think about it. Yet I can NOT tell you how many times I try to point things out to Jesus so He knows where to take me.
Yeah. "Follow Me." That's what God is saying to me today.
Discussion: What's God saying to YOU today?