Fun things that happened this week:
ANNABELLE THE ACROBAT
Annabelle did her very first somersault! It was pure accident. She likes to stand with her head pressed to her floor and her rear-end up in the air so she can look upside down between her legs. This particular day she was bent a little farther than normal, and leaned forward. Over she went! She laid for a moment, dazed and more than a little confused. Then Mommy started clapping and shouting and she thought she must have done something cool, so was all grins and excited too.


Karalynn looked at me after the commotion had died down and said, "You're totally going to blog about this, aren't you Mom?"
Why yes, yes I am!
BOOKMARKS!
My BOOKMARKS arrived!!!! I'm more than a little stoked about them. I have to suppress the urge to give them to random strangers. Thankfully, I've only done that one time so far, and they took it pretty well. *phew*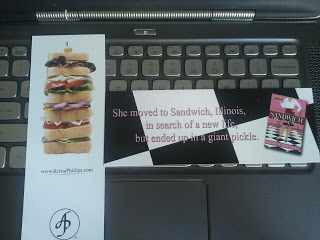 And yes, that IS a big ol' sandwich on the back of them! A HUGE thanks to my wonderful cousin, Jason, for helping me out! He came over and MADE the sandwich for me… then took the picture of it for me… then did the graphics stuff in Photoshop for me since I have NO clue how to use it.
My idea was… I wanted people to be able to have a sandwich sticking out of their book. Because… it's just plain fun!
SPEAKING OF SANDWICH…
I'm doing my FIRST book giveaway over at The Writer's Alley! The post is geared toward writers, but anyone who comments (with poetry!!!) can enter to win:-) Feel free to check it out!
THE SWING OF THINGS
We're settling back into the swing of things this week. School is in full force. Girls are doing GREAT! Everyone LOVES their teachers! Softball has started back for Lacy and Karalynn. We wrestled with whether or not to put them in it this fall, but I think it's good for them. Not to mention the fact that it's something they can have attention on themselves, because Annabelle tends to be the attention hog of the family these days:-) I'd love to put Gabby in Tball… but this momma just can't handle juggling 3 kiddos on 3 different teams all by myself!
GOD'S PERFECT TIMING
So I haven't blogged about this yet, but hubby and I were in a lot of prayer this summer about an upcoming writer's conference through ACFW (American Christian Fiction Writers.) I went to it in 2008 and 2009 and it was a HUGE part in helping me network with other writers, as well as agents and editors. I also learned a TON about how to write fiction. I wasn't able to go in 2010 and 2011 for obvious reasons, but I REALLY wanted to go this year.
But… it's expensive. And I'm more than a little nervous about leaving Annabelle.
Yet… this Momma really needs a break. And the conference is also in September, which means my book will be able to be available at the conference bookstore if I go too, which is a plus! And, well, did I mention that I really need a break… a recharge if you will??
When I examined my reasons NOT to go, God kinda shook his head at my excuses.
Money? Well, we have it… but it has to come out of our every depleting savings account, and that worries me more than a little. But God also reminded me that HE supplies our needs, and if He says to go, the he will provide.
Annabelle? I'm with her 24 hours a day, 7 days a week. I lived in the hospital with her for 10 months. She's actually become OVER attached to me to the point that she has a hard time detaching. So God has pointed out that a little time with Daddy and sisters is not such a bad thing. Not to mention the whole, "trust ME with her, Krista" that he is thumping into my head again these days.
So we decided I should go. My inlaws are helping out with the kids that weekend since Daddy can't get off work.
When I first checked flights, it was going to cost almost $350 for my plane ticket. *gulp* I decided to wait and pray about it some more. Maybe I should drive?? (It's in Dallas, an 8 hour trip, and I was going to carpool with someone else to help share the gas cost.) But last week, I felt this urge to check prices again.
AND GUESS WHAT?!? It was only…. $227!!! Over 100 bucks cheaper! I went ahead and booked the flight, and what's REALLY fun is that I checked again yesterday, and the price has already increased $50!
So yeah, God's timing is perfect. And he's going to figure the $$ thing out, and I'm going to continue to trust Him.
Discussion: Has God ever rolled his eyes at YOUR excuses before?? Or am I the only one that get's the Big Guy's eye roll…
How has God pleasantly surprised you lately??
Anyone have any fun "happenings" this week to share??