*confession*
I'm nervous.
I've never hosted a Facebook party.
What if it flops?
What if my whole book flops?
What if everyone hates it?
What if…
Yeah, can't live life in the what if, right? It'll drive a girl crazy.
I hope, if you get a chance, you can make it to the open house. We're going a little against normal convention of Facebook parties by drawing it out and making it a come-and-go open house type from 2 till 8 pm (CST). Most experts recommend having it an hour to two hours, max.
But Kathy and I, we like to mix it up a little sometime. Call us cutting edge, call us stupid. Either way, our hope extending it longer gives more people the opportunity to participate and makes it easier to participate.
To participate, go to www.facebook.com/asandwichfortheroad.
The actual "party" will take place on the facebook wall. Feel free to comment on whatever post fits your fancy!
We'll be having hourly "themes" for our posts…
2pm – Author Trivia
3pm – In Depth: The Road to Mercy
4pm – In Depth: Sandwich, with a Side of Romance
5pm – Fun "Road" facts and highlights
6pm – Fun "Sandwich" facts and highlights
7pm – Q&A: (almost) anything is fair game!
Each hour will have a giveaway, with the winner announced in the first 10 to 15 minutes of the next hour. To enter the hourly giveaway, you'll need to click on the "welcome" tab on the Facebook page and fill out the entry form (it's the same place you preregister, but it'll change a bit each hour!). One entry per hour allowed.
All hourly entries will be entered into the drawings for one of the "big" themed basket.
I thought I'd give you a peek at the "sandwich" themed basket I put together!!! I'm SUPER excited about it!!!!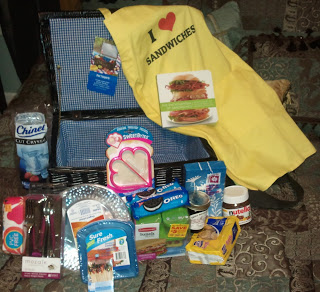 In it we have….
a picnic basket for Pier 1
an I
a copy of The Encyclopedia of Sandwiches: Recipes, History, and Trivia for Everything Between Sliced Bread by Susan Russo
a heart-shaped sandwich cutter
a jar of Nutella
a jar of Smokey Mountain Jelly
a package of Lance Peanut Butter SANDWICH crackers (I can withhold these if you're allergic!)
two snack sized packages of Oreo SANDWICH crackers
everything you need for a few romantic picnics including clear plastic plates and cups, a table clothe, dinner napkins, and plastic silverware that is made to look like actual silver
a Rubbermaid Lunch Box sandwich/sides container
a package of disposable plastic sandwich containers
a package of sandwich picks
a copy of my book (not pictured) Sandwich, with a Side of Romance
a $25 Subway Giftcard (not pictured)

If that doesn't make you want to come to the party, I don't know what would!!!
And DON'T FORGET! We're giving away a KINDLE TOUCH at the beginning of the party to one lucky person who has preregistered. You have until 1:00 PM TODAY (CST) to register!!!
Discussion: Are you a Nutella fan??? Or do you prefer classic peanut butter?