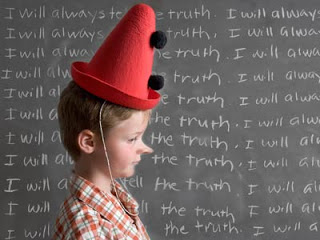 My middle child has had issues this past year with lying. They are just little fibs, but they scare me! I do NOT want my children to be liars!
She's getting better, but she still struggles with the temptation to say "No, I didn't do that" when she most certainly did.
Like the time Scott found a large X written in the carpet in the bonus room with permanent marker (not sure where she got it…) He came down and asked Lacy, "Why is there a black X on the floor upstairs?"
Oh, she could have just lied and said, "I don't know." or "I didn't do it." but no. Not my daughter. Her response?
*gasp* "Maybe… maybe it's a buried TREASURE Daddy!!!"
So yes, evidently our house has been invaded by pirates who have buried treasure in the floor boards of our bonus room.
Or the 2 times we found the word "LACY" written on two different couches… "No, Gabby wrote that, Mommy." Gabby wasn't even 3 at the time. As smart as my youngest daughter is, she most certainly did not write her sister's name all over my furniture.
Now, I'll bring this story to present. There is a little girl who lives down the street, and I tell you, this girl puts my daughter to shame in the lying department. Every other word out of her mouth is completely suspect. To the point of almost laughable. In fact, I don't wonder if this isn't a little where Lacy learned the trait at. Whereas my daughter only does it to get out of trouble, this little girl says it for no reason at all just to get attention.
My eldest daughter comes romping inside this last weekend and asks for they can invite this little girl over to play. They haven't asked to play with her in a while, because to be honest, she can also be pretty mean sometimes. It was out of desperation (i.e. all the other neighborhood kids were busy) that they were asking.
And I said no. I explained to my eldest daughter that even though we are to love EVERYONE and be a friend to everyone, since Lacy has trouble lying and this girl is obviously queen of fib-making, I don't want her around being a bad influence. If the girl comes to OUR house asking to play, then I don't mind her playing because we aren't going to be rude, but I don't want to seek her out.
There was a little of the normal "but MOM!" but finally she agreed.
As she went back outside to play, I questioned myself. Am I being mean? Am I being unChristian to not allow my children to be friends with this little girl? Or am I being a good mom by encouraging them to pick friends who will be good influences on them?
I also try to teach my children to love their enemies, so am I counteracting that admonition by telling them they can't play with this little girl???
Your thoughts on this matter are appreciated. What is the difference, the line if you will, between "loving your enemies" and "surrounding yourself with people who will be a positive influence"? Would you have let your children play with the neighborhood liar?
Please feel free to give an honest opinion. The jury is still out for me on this one!