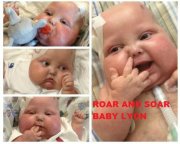 Sweet little Liam Lyon went to be with Jesus yesterday evening. He received his life-saving heart over a year ago, but had such a hard road since then. His family fought hard to find a doctor who would take his very difficult case, but in the end, Jesus called him home.
I'm reminded today how blessed we are that Annabelle is still with us. Sometimes, the farther out it gets, the more I let my guard down. The less I think about it. The less I remember to be thankful for every single moment we have. Normal life crowds in and makes everything noisy.
But I'm remembering today.
I'm SO incredibly thankful for the knowledge of my baby living, breathing, sleeping in her crib right now.
Thank you Jesus, for the gift of life you chose to bless us with.
May we live every moment to its fullest, as a way to honor those who have left us early.
Wearing red for Baby Liam today. Wearing it for ALL those babies who have fought and lost, and for all the babies still fighting. May Jesus surround them and their families and give them peace and strength.
And through it all, may God have glory.