HAPPY INDEPENDENCE DAY Everyone!!!!!!!!!!!!!!
I have three VERY BIG things to celebrate today.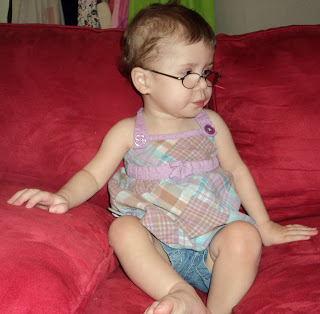 Mommy put me on the couch to take my picture. I didn't like being taken away from my toys, so refused to look at her.
The first, of course, is the freedom we have in our country… freedom we should NEVER take for granted and freedom our wonderful soldiers serve and fight to protect.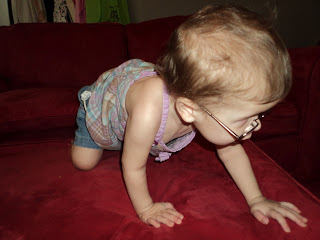 So, I decided to make my escape.
The second is our miracle this week.
Obviously we think Annabelle's life is a big miracle EVERY single day, but can I just tell you? Annabelle has done AMAZING since coming home. Like better than she has in months, maybe even ever.
This girl is happy and smiling and laughing.
AND! She's tolerating the feeds in her belly. Like, no gagging, no puking, nuthin. She used to, even at her best, get super tired when I would feed her, or lathargic, and you could tell her belly just didn't feel good at all.
But ever since we came home, Monday morning really, I've seen a completely new Annabelle. She hasn't gagged or thrown up even once since we've been home. She hasn't acted like her belly hurt her even a little bit. I'm kinda holding my breath, to be honest. Wondering when the miracle will end. It's ALWAYS been a struggle, even though it had been getting a little better. It's super hard as a Mom to feed your child when you know it will make them hurt, but at the same time, knowing they obviously have to have food to live.
Please agree with me in prayer that Annabelle will KEEP tolerating her feeds… and dare I ask, maybe even start taking a few things by mouth?!?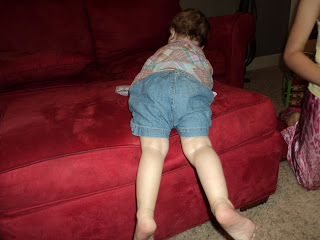 To appease her though, I thought I'd show her how I have been listening good to my PT so instead of diving head first of the couch, I decided to do it the "right" way. That, and if I had dived, I might have broken my neck, then Mommy wouldn't be able to celebrate her third thing, and that would really stink.
The third thing I'm celebrating today is that Annabelle is spending her SECOND 4th of July HOME.
And why is that so special??
Because (knock on wood) Independence Day is the ONLY holiday that Annabelle has NEVER spent in the hospital.
In 2010 she was in my belly.
In 2011 she was home for the brief few weeks between her surgery and her "july crash" as I've come to call it.
and in 2012, she is HOME and doing GREAT.
Thank you JESUS!!!!
Hope you all have a fun and safe day today!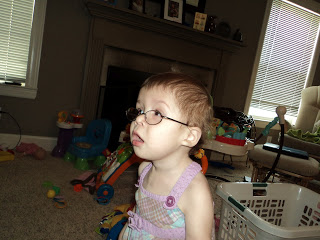 Yeah! I made it! ELMO TIME! (Please excuse Mommy's messy living room. It's mostly my fault… I think it looks prettier with my toys decorating the floor, and I think it's super funny to see everyone dancing and singing some loud yelling thingy when they step on one of them. Seriously, it's pretty funny. Yup, there's NO PLACE LIKE HOME!