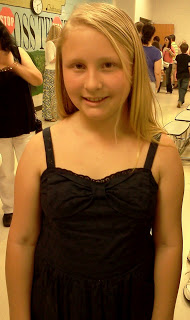 My smarty pants!
Blogging late today… today was not only kiddos last day of school, but also Annabelle's first day of Physical Therapy/Occupational Therapy/Feeding Therapy on the same day. I have some kinks to work out… but only having one trip to Nashville for weekly therapy is NICE. Just makes for a SUPER busy day!
But enough of that, 'cause this momma has to brag on her super awesome no-longer-a-fifth-grader!!!
Yesterday was 5th grade graduation for my Karalynn!!
She got awards for:
The A-B award (she got all A's/B's average for the whole 5th grade)
The Presidents Award (for getting an all A average for 4th grade and getting an advanced on the state standardized testing)
And the one I'm MOST proud of, the Citizenship Award! This was given out to one girl and one boy from each class for being outstanding school citizens, exemplifying good character, etc. Yeah, I could not be prouder of my now 6th grader!!!!
Yeah, I just wanted to stand and shout, "THAT'S MY BABY!!!!"
I refrained. Mostly. Although that could be because Annabelle decided to puke all over herself/me/her stroller during the ceremony… otherwise I totally would have been that Momma!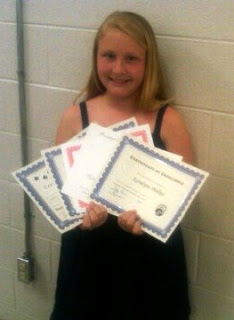 With her awards!
Anyway, *sigh* My baby is moving on to Middle School. Somebody pinch me!! Can I really be that old to have a daughter in middle school?!?!? Really???? *big sigh*
Although she did tell me the other day that she thought I was super young. "All the other kids have Mom's in their 40's… you're still young!" Ahhhh, yes, it made me feel a little better (*ahem* although we won't go into the fact that was because she was born with I was 19… but I digress…)
In all seriousness, I could not be prouder. The good grades are important, however it really is that last award that made me want to cry. I've always tried to stress to my girls the value in being kind to others. Smarts are great, and I know we all want to "look" our best, but I see my daughter living out her faith in Jesus at school and with her friends, and THAT is what I value and celebrate the most today for Karalynn.
(but Karalynn… I still want to see those A's, too!!! *grin*)