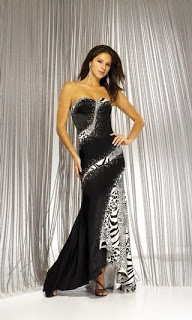 Come on. I couldn't do a series about going to a writers conference without talking about WHAT TO WEAR!
The answer is easy: Clothes. Seriously… going without them will put a bad taste in an agent/editors mouth and get you kicked out of conference.
So, now that we've established that… my first suggestion is to review the conference dress code. Some are more casual than others.
Regardless of the dress code, the key is that you are selling not only your books, but yourself as well. Even if it's casual, please don't show up in jeans with rips/stains in them and a shirt that has seen fifty washings beyond it's prime. If an agent wrinkles his/her nose at the sight of you, well, lets just say your story has to be that much more stellar. Although it should be stellar in the first place.
For ACFW that I will be attending in just a little over two weeks now (AAHHHHHHHH) the dress code is business casual. Which is fine for me because where I work is business casual, so I'm all about this.
But what the heck IS business casual? It makes us all pull out our hair, because everyone has a different definition.
My first advice is DO NOT STRESS OVER IT. As long as you look presentable you'll be fine. Jeans? Well, they aren't business casual, but if you come in nice, tasteful jeans that fit you well and aren't, uh, weird or covered in tacky multi-colored jewels (not that those are bad of course….) you'll blend in fine. But more appropriate are nice khaki's, casual dress pants, a skirt (although don't hold your breath to see ME on one of those… I focus on the casual side of the business…).
But then, I'm talking mostly about the general conference portion. I, personally, dress up a little more for my agent/editor appointments. If I want to be a professional, then darn it, I'm gonna dress like one. I treat it as a job interview, because, in a round about way, it is.
The big question
Should you go out and buy all new clothes for conference?
If you aren't strapped for cash… YES! Tell your husband that conference is a HUGE deal and you must dress the part, so hand over the DEBIT card (I'm a credit card hater) and get thyself to the mall.
If you are scrimping for pennies just to go to conference… No. Most people can make do just fine with the clothes in their closet. You go to church every week and look halfway decent, right? Then there you go. Conference clothes. If you really don't think your wardrobe is good enough, get thyself to goodwill or the clearance racks at WalMart/Target/JcPenny's/Kohls, buy a few things that can be mixed and matched to create multiple outfits, and away you go.
The BIGGER question
What about THE DRESS?
Many conferences, especially the bigger ones, have "dress-up" nights, where there is a banquet. For us females, this means an excuse to dust off our high-heels (groan) and gussy up a bit. (wow… don't they say that in historicals or something? Maybe I write in the wrong genre… or maybe they don't say that at all and I should stick to my contemps…)
You can go one of three ways here. You can wear your "Sunday best" and feel TOTALLY at home and comfortable. There are many others who will be dressed similarly. Or, you can go and buy a nice dress, a little fancy but nothing too oh-la-la. Totally okay! OR… you can throw caution into the wind, kick up your heels, and pretend your back in high school and go "prom" attire. TOTALLY okay too, as there are usually many others in formal attire as well.
Last year, I went the "black dress" route, so I was inbetween #2 and #3. Wasn't totally fancy-schmancy but was still formal. I think it's fun, personally, because I never got to go to prom or dress up before. I'll probably do something similar next year.
But rest assured, this is your night to look nice, ESPECIALLY you lucky-ducks that finaled in a contest… because maybe… just MAYBE, you'll be talking that walk of "coolness" to accept your 1st place award on stage. And when you do, look out into the audience and see the woman screaming and clapping really loud. That's me, being ULTRA proud of you! 🙂
Discussion: For you ACFW goers… how formal are you going for the banquet?
For everyone else… Think fast. Sweats, shorts, or spandex?
Sweats all the way here!