Doctors just rounded, and plan is to extubate after they finish the rest of doctor's rounds! No more ventilator!!!
A little nervous though, as she still has a LOT of fluid to lose, her xray is still a bit wet, and her hemoglobin is low.
They don't want to give her blood (for the low hemoglobin) unless they have to, and clinically she is doing fine. They try to give as little blood product as possible when they have had a transplant (for rejection purposes…) but will if she needs it. The thinking is too, if we get more fluid off, her blood levels might get better. (and consequently, if they give blood now, her fluid level might get worse…)
So we are all praying that she extubates WELL… that she breathes GREAT on her own, and that we can get all that extra fluid off quickly!
I'm a little nervous… Annabelle has never done "great" being extubated… after her transplant was the only post-heart-surgery extubation that worked on the first try, and that was rocky for a while. But I have to remind myself… she has a WHOLE heart now, and her LPA is bigger now so that should help too. PLEASE Jesus let it help!!!
We just need those little lungs of her to do good! And we are believing that they WILL!!!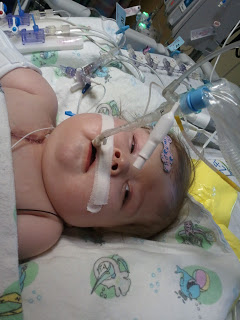 Last night, waking up a bit. "Mom, what in the world is going on here???"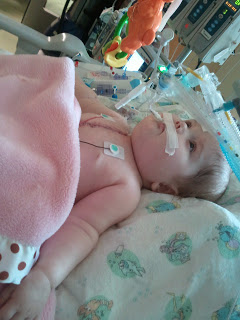 Just gave her some morphine as she was hurting quite a bit. She's a bit out of it!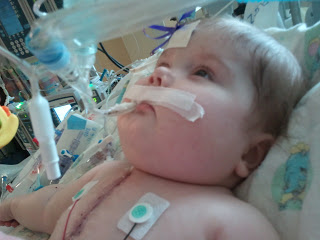 Close-up of my cutie…. hopefully I'll be posting a NO TUBE picture later today!!!!