Okay.
So I am attempting, for the billionth time, to lose weight.
Between four kids, one angel baby, and my intense addiction to all things brownies (and lately, Dr. Pepper…) yeah…. My middle has not "un"expanded as much as I would have liked after these sweet kiddos were born.
I've always been a bit of an emotional eater. It's where about 75% of my weight issue comes from. Food, especially the high-calorie (aka yummy…) kind, tends to bring a moment of comfort… thus the reason they call it comfort food! This is fleeting and not lasting. I get that. But, especially Annabelle's first two years of life when emotions were flying VERY high, those moments of comfort were needed.
Yes, it would have been fantastic to be able to control my emotions sans chocolate chip cookies and McDonald's….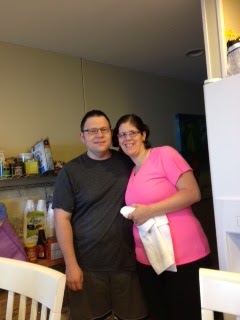 On vacation… my hubby and I
worked out EVERY DAY!
The fitness center overlooked the beach….
If there was ever a way to get me to work out,
THAT was definitely it!!!!
But I didn't. And it could have been MUCH worse, both in how much I ate and my choice of comfort aids. Some turn to alcohol or smoking or even drugs. I know a lot of people end up needing medicated to handle such high-stress times. (Which, by the way, I TOTALLY understand.)
Chocolate doesn't seem so bad of a coping mechanism when I look at it that way!!
I've tried, partially successfully, in the past year or so to lose some. I'd go up and down and honestly, I just wasn't ready yet. I was still figuring out how to cope with this new normal God has given our family, and my weight was just not an issue I had the mental capacity to address with any kind of success.
But… it's time. I NEED to feel better about myself. I NEED to be healthier.
And honestly, it's a lot about that. My daughter and I were talking about this last night, in fact. I'm realizing that I see and label myself (mostly jokingly but, honestly, I was serious) as fat WAY too often in front of them.
In our discussion, I told her (and myself) that the excess fat on my body that jiggles in way I DO NOT like… and the number on the scale that needs to have some extreme double-digit subtractions going on… those things aren't the problem.
They are a symptom of the problem.
The PROBLEM could be lots of things, and probably IS lots of things. Unhealthy eating… not enough exercise…. medical issues… depression… These are all problems. Symptoms could be low energy, excess weight, flabby stomach, weak heart, bad health, low weight… those are all things that those problems CAUSE.
I am very guilty of focusing on the symptoms. Mostly because it's what I see, and what I don't like, and what I want to fix. I'm not one of those who LOVES to exercise. In fact, I kinda hate it, so I probably never will be in love with it. But I can learn to enjoy it… can remind myself that it is GOOD for me and a GOOD example for my kids.
And I know that I'm a horribly unhealthy eater. Can they, like, hypnotize someone and make them love vegetables and hate brownies????? But I can start to say no to bad things… eat in moderation… and start making some healthier eating choices. This doesn't mean we can never splurge… because… well. I'll be honest. My name is Krista, and I like McDonald's Chicken Nuggets from time to time. Even though they do come from pink goo or whatever….
Here is the thing I am learning. I need to do what is right for ME. I LOVE hearing others weight loss stories and how they got healthier. I'm a super fan of The Biggest Loser. But we all lead different lifestyles. Have different taste buds. Different time schedules. Different likes and dislikes. What I'm doing this time is listening to all the advice I receive, and figuring out what can WORK for me… so it can be more than a temporary fix that I can only keep up for a moment… it can be a lifestyle change. And if I try something and it fails… I'll just try something else instead of giving up. (What usually happens…)
My current method is counting calories. My hubby and I do this together… because if one of us is counting and the other isn't… it makes it hard to stay good!! It also allows me to "cheat" now and then and eat something that might not be great… but if I DO… it's much less I have to eat. So I usually make sure my calories are WORTH me eating! I'm also trying to limit my pop intake (I know, I know, I need to ABOLISH it… this is another topic for another day!) But again… the more pop I drink, the less food I get to eat. So it is incentive to grab that calorie free water instead!
I'm also making a HUGE effort to exercise more. Talking walks with my family so they can get exercise too, taking the kids to the park more, doing a weekly Zumba with a few friends from church (lives may be lost if cameras are used….) and working out at the rec center in town, as well as taking the kids swimming there this summer. These are all things I haven't been great at doing in the past (or because of Annabelle, hadn't been able to before now.) But now she is a bit older and MUCH more stable… Momma can get out more. And this is GOOD!
I'm also doing some fun low-stakes fitness challenges with friends to try to help motivate! I am ALL about motivation and losing weight with friends!
So, there it is. My "big" not-quite-so-fat Quest. Trying to attack the PROBLEMS that caused my excess flab (fab visual there, I know…) in the first place… and hoping for results!:-)
I'll check in every now and again and let you know how it is going!!
Anyone else on a similar quest… or want to be?
Hubby and I use the myfitnesspal.com app to track our calories… so if you're on there, feel free to be my "friend" and we can encourage each other! My "name" is easy…. kristaphillips!