(If you're looking for an Annabelle update…. that will come later today or tomorrow when I know more… waiting on doctors rounds which will be later than normal today… So in the mean time….)
I've been given the go ahead to share my book cover with you!
AAHHHH!! I'm just a wee bit excited, can you tell?!?
Drum roll please…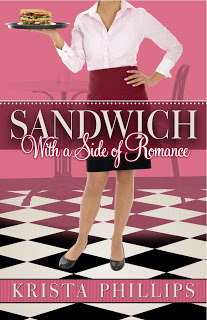 She moved to Sandwich, Illinois, in search of a new life, but ended up in a giant pickle.
Sandwich represents hope for twenty-year-old Maddie Buckner and Kyle,
the eleven-year-old brother Maddie wants to spring out of foster care.
Then she loses her new job after less than an hour on the clock. It's
all Reuben-the-Jerk's fault, and she's determined to make him right the
wrong.
He does so, reluctantly, by giving her a job at his restaurant, The
Sandwich Shop. Then crazy things start happening at the restaurant, and
Kyle's foster parents apply to adopt him. To stop it all, Maddie must
learn the art of humbling herself and accepting the help God has
arranged, risking her heart to Reuben in the process.
And she'd rather eat a million corned-beef on rye sandwiches than do that.
********
So… what do you think??
And if you didn't see yesterday's post… my book is now, officially, for sale!!!! It's listed on Amazon, Christian Books, and Books a Million! (I don't believe you actually are charged for it until it ships in September… although that might vary upon sight, and obviously if you're an eReader that will be available later too!) Also, I checked today, and my cover is showing on Christianbooks.com!
I think I might have to pinch myself… for so long it's felt SO far away and now it's getting REAL! AHHH!!
Okay, I'll settle down now.
THANK YOU by the way to all those who said they already pre-ordered (and for the 5 people that "liked" my book on Amazon… you all are SO INCREDIBLY SWEET!!!!)
I think Jesus KNEW I needed this excitement this week. In fact I know He did. Yesterday was a tough day… but God is FAITHFUL and *sigh*. He knows what we need!