In 2007, via a miss-guided FedEx package, God nudged me to pick up writing again. (Thanks again, Michael Snyder and Zondervan, for that address mistake!)
In usual Krista fashion, I jumped in with both feet. I wrote late into the night and on my lunch breaks, I joined writer's groups, I went to writer's conferences, I entered contests, I queried agents.
As I announced a few months ago, I finally landed my "dream" agent, the uber cool and wonderful Rachelle Gardner of WordServe Literary.
What I purposely left out in that announcement was "how" I got my agent. Every writer dreams of telling their story about getting "the call." But mine, I had to be vague.
Why, you ask?
Let me back up and tell you the REAL story!
I'd originally queried Rachelle back in Spring of 2009. We'd e-mailed back and forth some, and she'd requested my full manuscript. But then Annabelle was born, and Rachelle was swamped, and neither of us ever followed up.
Fast forward to January 2011. I got an e-mail from an editor of a publishing house (who I knew through a local writer's group I was involved in) and she asked me to call her.
Long story short, she wanted to look at one of my books. I sent her my 2nd completed novel (different than the one I'd sent the agent the year before.)
And in June, just a few days after Annabelle was able to come home from the hospital after her most recent heart surgery, I got a phone call from her offering to publish my book.
I about fell on the floor. Only I was in the car, so that wasn't possible. Instead, I called my husband and screamed really loud.
But what's a writer to do? I'd NEVER imagined getting a publishing contract WITHOUT an agent. I am NO expert in contracts, and I really had my heart set on having an agent to guide me through this crazy career that is publishing.
So I got up the courage to e-mail the only agent I had an outstanding manuscript with, that was now a year and a half old and on a completely separate book. Would she even remember me by now? And what if my e-mail got lost in the bajillions of e-mails she gets everyday?
Before my nerves could convince me otherwise, I sent the e-mail. And waited… and no response. Granted, I didn't wait long, but I knew in my heart that my e-mail was sitting in la-la-very-busy-inbox land.
Now, what had Rachelle said on her blog to do when you have a contract that you haven't signed but want represented by an agent?
Use your networking contacts, that's what! So, I e-mailed my two WONDERFUL writer friends and clients of Rachelle (waiving to Katie and Jody) and asked for advice.
I promptly received squealing e-mails back, offering to e-mail Rachelle for me to help lift my e-mail out of the masses.
Less than an hour later, I was on the phone discussing agent representation with my dream agent!
And now, with the help of my sweet, wonderful, AWESOME agent and my friend and now editor, Ramona Richards, as of Thursday when I signed my book contract and mailed it… I can officially announce…
In fall 2012, my debut novel will be published by Abingdon Press!
Holy Cow. It's weird to type that!
I am so excited I could literally burst. God is SO good. I've prayed for a very long time for HIS will to be done with my writing, while I held on to the little hope that maybe, just maybe, his will would be this.
And God's timing is perfect as well. I look back and smile, because I see God's handprint on each and every date.
And yes, it is a tradition. When you sign your first contract, you take pictures and post with your big news!
My hubby and I got kinda silly. Knowing that I am probably humiliating myself, I am posting them anyway.
By the way, I write humorous inspirational contemporary romance. I try to look the part…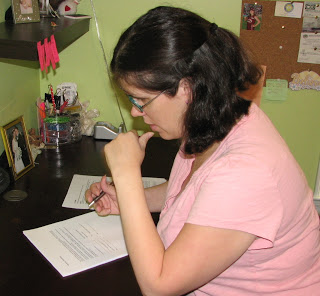 Reading the fine print to make sure I know what I'm getting into!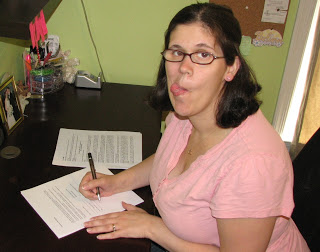 Taking break from the boring fine print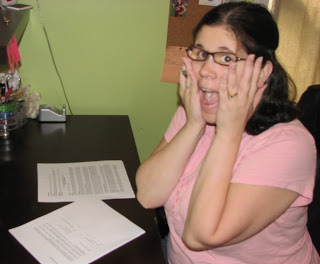 Overwhelmed by the fine print…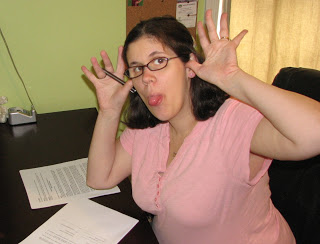 The fine print has officially made me crazy…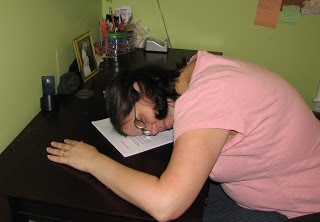 Bored by the fine print…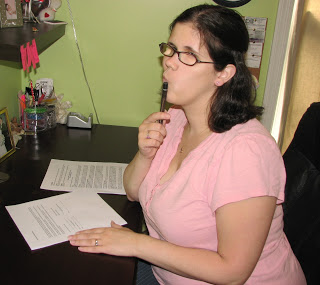 But wait… fine print is why I got an agent! She already read it!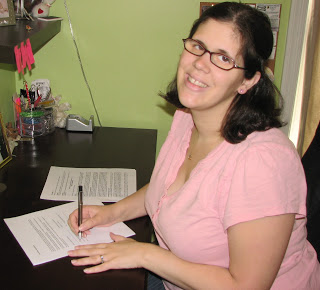 Yeah! Signing my first publishing contract!