I mentioned before I left on my "break" that I had a big announcement to make in the new year… and it's now time to make it.
Some may have thought it was an "agent" announcement … but alas, still glancing at e-mail and/or phone ever few minutes … hoping.
Actually, it's nothing writing related at all.
It's something much better.
You see … as much as I gave Sherrinda grief on that particular post for guessing that my "announcement" was of the baby variety, well, she was right:-) I didn't lie either, in the comments section I said I need another child like I need a hole in my head… but that doesn't keep me from WANTING one, for being ridiculously excited about Scott and I's upcoming bundle of joy.
To answer a few questions that usually follow:
Was this planned? Yes. I wanted to be done having babies by the time I'm 30… and I turn 29 in April. If this makes you roll your eyes, please realize I started having babies at age 19!
How far along am I? Almost 11 weeks. Yes I've known since before Thanksgiving and have kept it a secret. NOT AN EASY TASK! I'm pretty much a blabber mouth:-)
Am I sick? Yes… but not as much as my poor friend Valerie, who is about 2 weeks ahead of me. **HUGS** my sick, pregnant friend! I'm still praying the puking stops!
When am I do? August 1st.
Since I have three girls… do I want a boy?? YES! But I love my baby regardless, so if it's a 4th girl, she'll be just as loved! But a boy would be a very nice surprise:-)
Names yet? Nope. We plan to find out the gender… so will wait until then before we start name brainstorming.
And now for a picture…. taken Wednesday. The baby is doing FABULOUSLY! He/She was moving around and even waived for the ultrasound. I cried:-)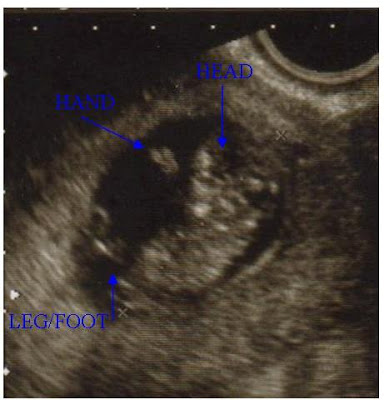 Needless to say, we are SUPER excited.
Last question: How will this affect my writing?
Not in the long run. I'm not quitting, because it is something I feel God's called me to do, but I'm sure my schedule will need more adjusting with the coming of #4. But I DO plan on getting tons done BEFORE the arrival of little one, so I can take some time to rest and love on my little one.
So… that's my big announcement!!! What do ya thing? Am I crazy??? (If you answer no, well, then you really don't know me very well!)