You here a LOT about Annabelle on this blog, mostly because she has the most "news" to give, but also because my older kiddos actually "read" this blog sometimes… so I can't highlight their antics without getting in trouble! HA!
I can, however, brag on them like crazy!
And today, I have a good bit to brag on!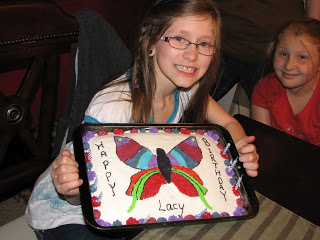 Grandma made her cake to match her artwork! (see below…)
Happy Birthday!
First things first… Yesterday my Lacy turned EIGHT YEARS OLD!!!!! Happy Birthday, my sweet one! It seriously seems like just yesterday that you were snuggled in my arms. You were SUCH a happy baby, and a good sleeper, which Momma REALLY appreciated! (She still asks to go to bed sometimes… yeah, I know, be jealous!)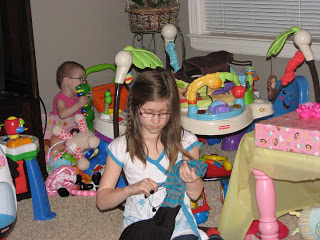 Funny part of this pic: Annabelle in the back. She'd climbed over ALL those toys to get to the one she wanted… Lacy liked her shirt, btw, ha!
My Artist
My Lacy is an artist! Her school has an "art" exhibit at the FRIST Center (really big art museum in Nashville) for the next few weeks. They chose 2 pieces of art out of each grade level for each school in her county.
Guess whose artwork got chosen for the 2nd grade at her school?????
Yup! Lacy's!!!!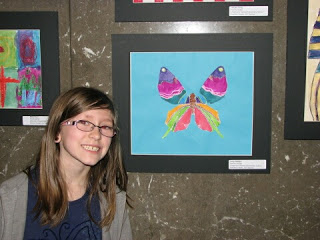 AND!!!! The next week the county parent newsletter came out with a section talking about the art center. And guess whose art they chose to grace the newsletter beside the story??
Yup! Lacy's!!!!
We are SO SO SO SO SO proud of her!
Saturday was the first day of exhibit, so grandmas and papa and dad and sisters and aunt and uncle all went out to see Lacy's artwork!
Mommy and Karalynn had full plans to attend to but…..
The Thinkin' Master
For the last few months, Karalynn has been preparing for a DI tournament, or Destination Imagination. Her group of a max of 7 kids use their imagination to do a "challenge" to present last Saturday.
Now, her team that started out with 7 people dwindled down to 4 before they even started to meet… then by January, was a group of 2 girls who decided that against all odds (a late start and a super small group…) they would persevere and not give up.
For that alone, I'm SUPER proud of them.
Then Annabelle was in the hospital, and it got even harder because we were down to the final weeks and I as their co-team manager was not able to help (we also had all our meetings at our house…) Anyway, just put another wrench in the process.
Then came the morning of the tournament.
Plan: Instant challenge at 9:30, weigh-in their project (there was a weight requirement), then book it over to the Frist to see Lacy's project, then be back by 1:00 because their challenge was at 1:50.
However, when we got to the weigh-in…. the person weighing the project gave them some blowing news.
Those last few weeks, they'd decided to add a little "reinforcement" to their captivator. They added river cane to each of the 3 sides of their structure they had built (the point was to get it to hold golfballs inside and weight on top.) However… it had to be built 100% out of wood… and they found out that river cane was NOT wood, but a grass instead.
So, instead of going to the Frist, they spent two and a half HOURS, slowly, pain-stakingly, cutting out the rivercane from their project while trying to preserve the wood it was glued to.
With about a half-hour to spare, they finished. PHEW!
They did not "go to state" (top 3) but they finished strong, tried their best, and persevered when most kids would have given up.
And for that, I am SO SO SO INCREDIBLY proud of my daughter. And even though they didn't "win" their structure held 123 pounds of weight (and didn't break… they just ran out of time otherwise it would have held probably at least double that!)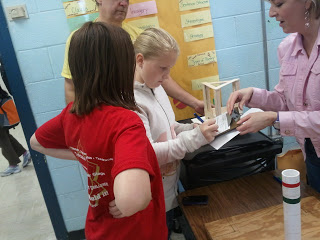 My phone died right after this… so it's the only pic I have of them and their structure! They are certifying the weight…
**Annabelle Update**
You know I couldn't finish a post without one!
Annabelle is doing FANTASTIC! Lots of follow-up appointments today, so we'll get to find out how much (or little… I'm believing MUCH) weight she gained!
She definitely LOOKS better! Her face isn't quite so sunken in, and she has a TON of energy. I think she might have the start of another cold though 🙁 Her nose is junky! But her lungs are as clear as a bell, so YEAH for that!
MY REQUEST:
Wish Lacy a happy birthday in the comments! I know I know, but I'm gonna have her read them tonight so I thought it would be fun for her to read through a bunch of them! She is my SUPER DUPER special girl and deserves to feel it! Sadly, as many heart-parents can attest to, siblings sometimes get the raw end of the deal with another sibling is sick with a long-term illness. We try our best to NOT do this… but it is the nature of it to a point. My kids have weathered it SO SO SO well, I am so proud of them!