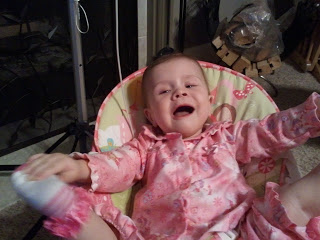 She's singing! (her la la's.. ha!)
We met a fun milestone today!
Annabelle had clinic today… and instead of our regular every two week visit… we get to schedule our next visit in a MONTH!!!!
She should have been down to monthly visits quite a while ago, but better late than never!
We also had feeding therapy today.
Which failed miserably. She cried the whole time. She's never done that before, and I'm not quite sure why she was such a crank-butt. However, we did get set up to have weekly therapy instead of bi-weekly starting in two weeks, so while I don't look forward to the extra trip to Nashville, I look forward to actually making some feeding PROGRESS!
Speaking of!
Annabelle's decided to eat last week… a little! It's only a few bites each time, but that is up from outright refusal. And the feeding therapist seemed to think that she might do even better once her teeth get in. She's cutting molars right now, on top of all the rest of her teeth that are late in coming. A hurting mouth does not bode well for eating!
I know I usually end a blog with something witty or inspiring or at least half-way intellegent… but I'm tired. It's been a long day of appointments and I have syringes to clean and kids to get off to bed soon. *yawn* I keep telling myself I'll catch up someday, but it's looking more doubtful every day!
Still.. I wouldn't trade life with my kiddos and hubby for anything! I am one blessed woman!